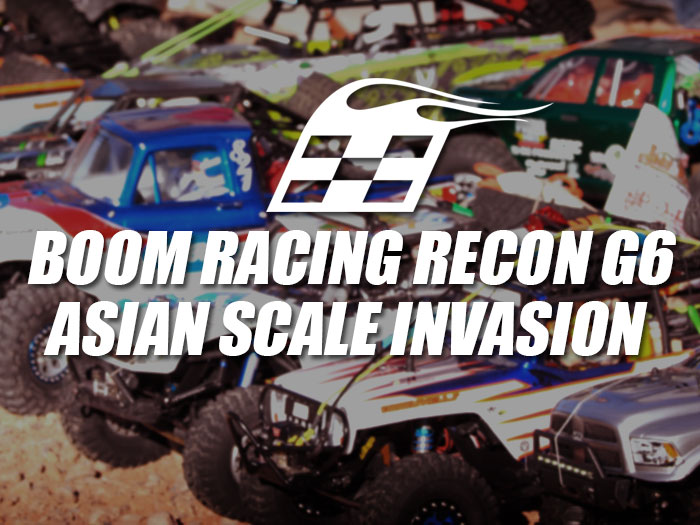 Boom Racing Presents First Asian RECON G6: Asian Scale Invasion
Boom Racing has recently announced that they will be hosting the first Asian RECON G6 in November!
Here are some details on the RECON G6. We will keep you guys updated on THIS PAGE for any updates we get from Boom Racing!
OFFICIAL EVENT BLOG
https://www.boomracingrc.com/boom-racing-presents-first-asian-recon-g6-asian-scale-invasion-2755

OFFICIAL FACEBOOK PAGE
https://www.facebook.com/events/232775153766775/

EVENT PRE-REGISTRATION CLOSED
Event pre-pregistration closed on November 2, 2016

OFFICIAL TAGS
#recong6hongkong #asianscaleinvasion #boomracing #recong6

POWER POINT INTRODUCTION "ASIAN SCALE INVASION"
Traditional Chinese
http://e.eqxiu.com/s/mTb4Pa1Q

Simplified Chinese
http://i.eqxiu.com/s/WF2UmWqG


ABOUT

Since 2009, RECON G6 has been an American lifestyle event series, an RC scale fun adventure for the entire family. Held outdoors using natural terrain, the RECON G6 is based around adventure, battling the environment, and building camaraderie with fellow competitors.

For the first time ever, RECON G6 will be held in Asia. Scale crawling has seen a tremendous growth in recent years in countries like Indonesia, Malaysia, South Korea, The Philippines, Hong Kong and China. Scale crawling enthusiasts and drivers from all over the world will participate in this "Asian Scale Invasion" adventure, meeting each other and exchanging cultures and driving styles for the first time.

Brian Parker and the RECON G6 Crew, together with Boom Racing, will travel to Hong Kong to host this two-day epic scale adventure, a perfect location where the East meets the West.

Boom Racing makes fun and exciting products for RC cars. We manufacture performance and affordable parts and upgrades that enhance the experiences of RC enthusiasts. Boom Racing is the Official Shocks of RECON G6.


PRE-REGISTRATION

Link for pre-registration is HERE. Make sure you pre-register to get the Official Boom Racing Recon G6 Drivers Bag and Scale Accessory.


EVENT DETAILS

Saturday (11/12) is meet and greet. A half day event filled with driver challenges and bashing with cars (bring your own or use our loaner bashers) including U4 racing (bring your Bombers, Yetis, Yeti Scores, Twin Hammers and Wraiths), 1/4 Offroad Dirt Bike Event (X-Rider 1/4 Offroad Bikes).
1pm - 2pm: Driver meeting
2pm - 6pm: U4RC Event + Bashing Events + 1/4 Offroad Bike Event
6pm - 7pm: Hang out!
7pm: Bus leaves to hotel

Sunday (11/13) is an all-day, RECON G6 Driving Event. $25 USD pre-registration and $30 USD for day-of registration.
9am - 10am: Driver meeting + register
10am - 4pm: RECON G6 Trail Driving
4pm - 6pm: Raffle prizes + winners
7pm: Bus leaves to hotel

-Raffle prizes for all drivers. 
-You will not have to bring food (If you have any allergies or issues with certain types of food, please contact us for details about special accommodations)
-Drinks are avaiable for purchase on-site
-Off-road terrain, please wear appropriate clothing + gear


SPECTATORS

Please be reminded that MX Club is a private venue and is not a public park. All Drivers and Spectators need to register their names on-site (free-of-charge) when they enter the event. Everyone is welcomed to join and participate to view the event. Only Drivers (U4 Racing and Recon G6) need to enter and pay for the Recon G6 event. All others can come and enjoy the event and have a good time. The Recon G6 trail is closed for public on Saturday and open for everyone to walk on Sunday.


VENUE RULES

*Please remember that this is a family event meant to be full of fun. Be respectful!
*Please do not throw your garbage around the course, clean up after yourselves.
*Take care of your personal belongings as we are not responsible for lost items.
*Parking is limited, its first-come-first-serve.
*Beer is allowed!


LODGING & TRANSPORTATION
Book your rooms early! Last day of booking hotel thru Boom Racing is September 30.


Option 1 - BP International

Price: HKD $850 per night or USD $109
Type: Twin or double bed (no breakfast included)
Transportation: *Includes two-way Saturday and Sunday transportation from hotel to venue (HKD $250 value)
Address: Hong Kong Scout Centre Cum B P International, 8 Austin Rd, Tsim Sha Tsui
Tel: 852-2376-1111
Notes: Many restaurants nearby. Located in downtown. 6 minutes walking distance to MTR.


Option 2 - Club 88 (booking closed)

Price: Twin Bed HKD $491 per night or USD $63 (closed)
Price: Double Bed HKD $600 per night or USD $77 (sold out)
Transportation: *Includes two-way Saturday and Sunday transportation from service apartment to venue (HKD $100 value)
Address: Club 88, No.88 Wing Ping Tsuen, San Tin, Yuen Long
Tel: 852-2388-1448
Highlight: Close to venue and the China border.
Note: Service apartment. No breakfast included. 15 minutes from venue. Free shuttle available per hour to Sheung Shui MTR station / Huanggang Border Crossing (10 mins).

*Free transportation to and from venue only available through booking with us directly.


PAYMENT DETAILS

Please send full payment for hotel reservation to:
Paypal: sales@boomracingrc.com
Once your payment for hotel is sent, please send us these information to sales@boomracingrc.com
1. arrival date
2. numbers of nights
3. full name for each room
4. twin bed or double bed
5. paypal transaction ID


ADDITIONAL ACTIVITIES
We have arranged for a half-day city tour of Hong Kong after the event on Monday (Nov 14). The tour takes approx. 5 hours.
Time: 8:30am
Cost: HKD $310  per person ~ approximately $40 USD
Start: Tsim Sha Tsui and drop off at same location
The tour includes:
Tour guide (English)
Visit: Garden of Stars, take Star ferry, 1-way Peak tram ride to Victoria Peak and Stanley market
Minimum 15 people total.

CONTACT INFORMATION

Tel: 852-2886-0618
Email: sales@boomracingrc.com
Official Facebook Event 
CLICK HERE TO HEAD TO THE FACEBOOK PAGE FOR THE EVENT TO RSVP!
SPONSORS

Title Sponsor
Boom Racing

Platinum Sponsor
ATees Hobbies
RC4WD
MST
Pitbull Tires
Proline Racing
Killerbody RC
Flysky
Sense Innovations
Team DC
INNOEC Technology

Gold Sponsor
CYS
Gens Ace
Hobbywing
X-Rider
OnetoomanyRCs
GT Power
Mumeisha

Silver Sponsor
Scorpion
Team Tetsujin
Snow Panther
JG RC Hobby
Team Raffee Co.
OMG

Bronze Sponsor
MIP
Knight Customs
Scaler Fab
oB1-RC
Hong Kong Model
RCCar.Zone
RC Fans China
RC Models Magazine HK
HK Defender RC Club
Graver Drift RC Track
Kronik Hobbies


OFFICIAL PARTNERS

Recon G6
Monster Energy
MX Club HK
Holiday World