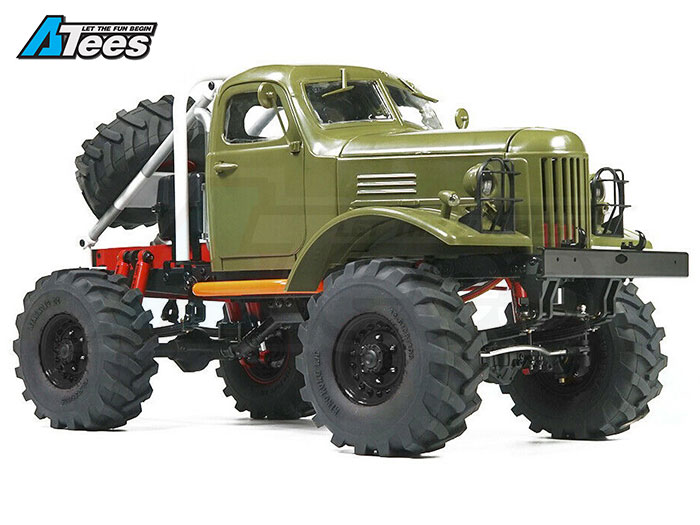 King Kong RC 1/12 Q157 4X4 Mud Monster Kit
King Kong RC releases their latest rock crawler - the 1/12 Q157 4X4 Mud Monster kit. Don't let the 1/12 size fool you - this is an all-terrain beast!
Looking for something exciting to build? Look no further than this King Kong 1/12 Q157 Mud Monster kit. It is a replica rock crawler of the Zil 157 monster conversion truck. Designed to carry you across any terrain type, be it rocky outcrops, or boulder filled terrains or roadless country side!

Check out the video below of the 1:1 modified mud truck.
Similar to the CA10 and CA30 military trucks, the Q157 Mud Monster cab uses the same hard body with opening doors and hood and includes a full interior. The entire chassis is made up of different high quality metal parts. The components are made to scale to resemble the 1:1 mud truck. The factory pre-built transmission and transfer case are low profile and has an overall small footprint design.
Metal axles are beefy and scale looking, they provide good weight down where its needed low for low CG. Internal shocks are smooth and look great which add to the scale realism.
Features:
Q157 ABS hard plastic body with full interior
Wheelbase: 253mm
Single Speed Scale Transmission (Factory Pre-Assembled)
Final Transmission Ration: 1:21
Realistic Billet Aluminum 8mm Ladder Frame Chassis (419mm Length)
Full Metal Gears
3x HD Steel Center Driveshafts
Realistic Cast Metal Front Axle (Factory Pre-Assembled)
Realistic Cast Metal Rear Axle (Factory Pre-Assembled)
4x Realistic Leaf Spring
2x Aluminum Front Scale Shock (70mm)
4x Aluminum Rear Scale Shock (90mm)
5x 1.55" Mud Tire (Width: 43.5 / Height: 105mm)
5x 1.55" Aluminum Beadlock Wheel
Realistic Scale Receiver Box
Realistic Steel Side Slider
Realistic Roll Cage
Realistic Exhaust
Pinion Gear (14T 32P)
Both the doors and the hood (bonnet) of the truck cab can open and close
Shop the Q157 Mud Monster truck.