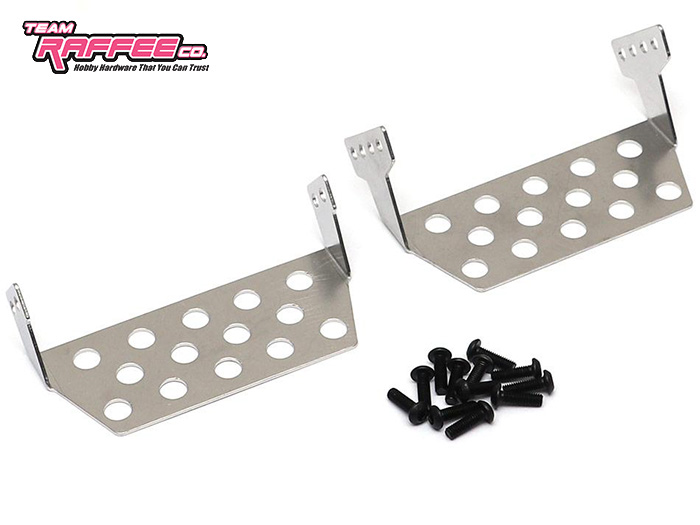 TRC Releases 10 New Parts & Accessories For Traxxas TRX4
Team Raffee Co. released ten new parts and accessories in different materials including rubber, stainless steel, aluminum and leather for the Traxxas TRX4.
Team Raffee Co. utilized different materials for different areas of the vehicle. Aluminum sand ladder for durability and strength. Stainless steel skid plate for heavy weight down low and to withstand impacts.
TRC also released rubber body accessories for durability. You no long have to worry about breaking handles or hinges as the parts are now flexible.
Here is a list of parts just released:
TRC/302445 - Aluminum Anti Skid Sand Ladder Plate For 1/10 RC Crawler (2)
TRC/302446 - Stainless Steel Front & Rear Skid Plate for TRX4
TRC/302447 - Stainless Steel Chassis Protection Skid Plate for TRX4
TRC/302448 - Stainless Steel Axle Protection (1) for TRX4
TRC/302449 - Headlight Grille for TRX4 Land Rover 1 Pair
TRC/302450 - Rubber Door Handle for TRX4 Land Rover (4)
TRC/302451 - Rubber Door Hinge for TRX4 (6)
TRC/302452 - Rubber Hood Hinge for TRX4 Land Rover (2)
TRC/302453 - Rubber Hood Vent TRX4 Land Rover (2)
TRC/302454 - Leather Spare Tire Cover 1.9" Crawler Wheels for 1/10 RC Crawler
TRC/302445 - Aluminum Anti Skid Sand Ladder Plate For 1/10 RC Crawler (2)
TRC/302446 - Stainless Steel Front & Rear Skid Plate for TRX4
TRC/302447 - Stainless Steel Chassis Protection Skid Plate for TRX4
TRC/302448 - Stainless Steel Axle Protection (1) for TRX4
TRC/302449 - Headlight Grille for TRX4 Land Rover 1 Pair
TRC/302450 - Rubber Door Handle for TRX4 Land Rover (4)
TRC/302451 - Rubber Door Hinge for TRX4 (6)
TRC/302452 - Rubber Hood Hinge for TRX4 Land Rover (2)
TRC/302453 - Rubber Hood Vent TRX4 Land Rover (2)
TRC/302454 - Leather Spare Tire Cover 1.9" Crawler Wheels for 1/10 RC Crawler