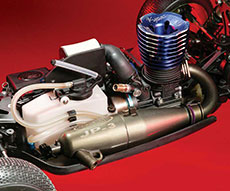 Unequalled Quality, Precision & Performance
O.S. is one of the world leading companies devoted solely to the manufacture of model engines. The high standards of skilled craftsmanship that have been developed through the 65 years of O.S. engine production history introduced the world's first model rotary engine, and, more recently, Electronic Fuel Injection system engine ranging from the small displacement .10 engine up to the larger Five cylinder radial four-stroke 3.0 engine.

For the production of O.S. engines, modern precision machinery and carefully selected top quality materials are employed to ensure consistent performance and long life. O.S. will always seek "quality and performance" with worldwide users.