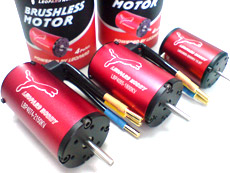 Powered by Leopard
Looking for a company dedicated to manufacturing the best RC components available on the market? Look no further.

Leopard Power understands that details are crucial in producing high quality products.

With over 300 different types of brushless motors and ESC combined, Leopard Power has something suitable for you, including 2-Poles and 4-Poles sensored brushless motors from 3.5T to 21.5T. It is devoted to ensuring maximum quality at all levels of production from initial design and the selection of raw materials to final assembly and quality control.

You can find brushless motors ranging from larger 1/5 scale RC cars down to smaller 1/36 scale.

It keeps pace with the latest technologies and strives to push the boundaries in developing new products. Everything is available at the largest online RC store.