VIP Ultra Front Motor 4WD Electric Shaft Driven Car ARR (Purple)
**Discount shipping applies to this item.
Request a Video Intro

CUSTOMER REVIEWS
This product currently has 0 reviews
Currently all feedbacks are left by AsiaTees customers.

Quantity Discount
Units at this Price
AsiaTees' Low Price(Per Unit)
You Save
Click To Order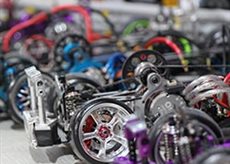 MAX SPEED TECHNOLOGY
MST is an innovative R/C car design team & manufacturer.