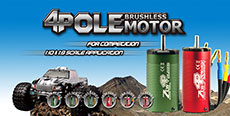 Choose ZTW, Choose Quality & Trust!
ZTW Model was established in 2007, committing themselves to electronic power system for RC models. As an integrated enterprise with the ability to research & develop, produce and sell, their products have been selling well all over the 60 countries and districts in the world, which makes ZTW the most competitive brand and OEM enterprise through global RC lines. Its brushless ESC for car, boat, and helicopter & airplane are comparable to world famous brands especially in terms of performance in compatibility, reliability and stability.

To select ZTW is to select quality & trust. All products available at the largest online RC store.