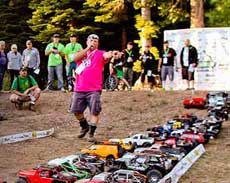 Enthusiasts for Enthusiasts
Founded in 2005, Axial R/C, Inc. has quickly become a global brand leader of hobby grade radio controlled products.

Axial is regularly involved in local and national events. earning awards every year from 2007 through 2010, including "Best Truck", "Most Innovative", "Best Engineered Product of the Year", and "People's Choice."

Axial Racing is a company of enthusiasts for enthusiasts. They pride themselves on developing extremely high end radio control models of vehicles that you are likely to see in the great outdoors.

The Axial team encourages the entire family to get outside and have some family fun with Axial. All the Axial upgrades are available at the largest online rc store.