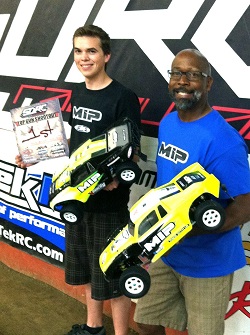 Race With Us
Made in the USA, MIP Products are designed and manufactured in-house in a nearly 9000 square foot state-of-the art Precision Swiss-style CNC machining facility. Since 1979, the world's best racers count on MIP for the finest quality RC car stock replacements.

MIP CVD™s have been standard equipment in Team Associated, HPI, Corally, JConcepts, and Losi pro kits, with MIP Diffs included standard in HPI Blitz pro kits. Trust MIP Performance Products and Tools for Hobby and Pro RC Cars and RC Trucks, Electric and Nitro –Touring, On-Road, or Off-Road!

MIP makes hop-ups for on-road, off-road, 2wd, 4wd, buggies, trucks, crawlers, truggies, and touring RC cars. Their 1/8th & 1/10th scale after-market products for gas-powered nitro RC cars and electric RC cars are designed especially for Team Losi, Team Associated, Traxxas, Kyosho, Thunder Tiger, Jammin, Traxxas, HPI, Tamiya, and many more! Innovative MIP CVD™s set the standard! All MIP products are available at the largest online rc store.