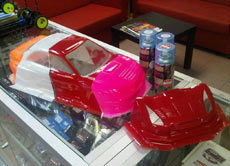 Professional Chemicals in the RC World
Experienced in the advanced experiment and design of fine chemicals in model marketing, Mumeisha understands that lubricating oil is important for machinery just as drugs for patients.

Like a doctor, it not only offers drugs, it finds apt and specific ways to solve problems.

With over 15 years in the field of industrial lubricating oil, this Japan-Hong Kong joint venture company has entitled hundreds of patents in lubricating technology with over 1000 specifications of lubricating oils for all demands. Everything available here at the largest online RC store.