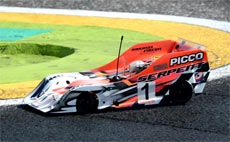 The Racing Experience
Serpent has been around for more than 30 years and it was founded by Berton BV, which is named the two founders, Pieter Bervoets and Ron Ton, which both were RC car racers. The pair built their first RC car in 1972, using a Kyosho Dash 1 chassis modified by themselves. In 1977, the duo started to develop their first car under the Serpent name in 1977 and in 1979, both Bervoets and Ton had won separate EFRA 1:8 titles with their Mk. III Pro.

Despite the broken road that Serpent has been on, they've got team drivers from Europe, US, and Asia, taking 9 world titles, and 37 European titles altogether, plus a number of nationals. Its line of products specializes mainly in 1/8 and 1/10 scale for buggies, touring, and pan cars.

It's Serpent's goal to create great products, which offer a truly great racing experience. Experience racing, race Serpent! All Serpent products are available at the largest online rc store.