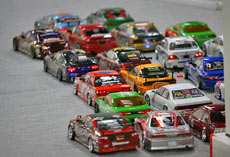 My Speed, My Matrixline
Matrixline RC model is a manufacturing company specialized in producing lexan RC model bodies and RC accessories.

Since 2000, it has developed many new and exciting RC body features like high detail RTR printed bodies. Its RC bodies are formed with high quality materials from Japan and painted with eco-friendly ink, all complying with international standards.

The owner of Matrixline RC is truly passionate about producing the most scale RC body in the market. All of the decals and body structures are carefully designed to replicate the real race cars.

Matrixline RC has a factory space of 30000 square foot and employs more than 80 workers, all focused in making bodies and decals for RC cars. With more than 10 years of experience in making scale RC bodies and decals, you can be sure Matrixline RC has the quality you look for.

Matrixline RC produces drift car replica decals, general RC decals and more than 100 different RTR, clear and graphite printed bodies. All the high quality matrixline body shell products are available at the largest online rc store.