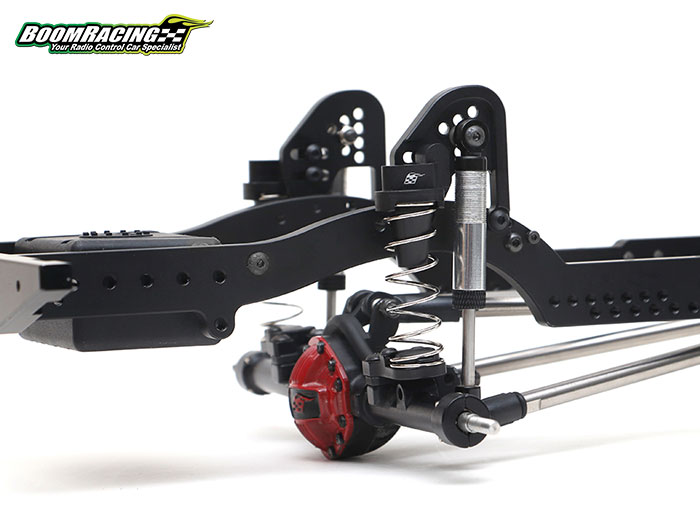 Boom Racing D90/D110 Scale Suspension Conversion Kit
Boom Racing introduces a new scale suspension system that mimics 1:1 Defenders to the scale RC lovers.
Resources:
Instruction Manual: D90/D110 Rear Scale Suspension Conversion Kit BRQ763071
This conversion kit sets up like a 1:1 Defender rear suspension system and the geometry makes the truck move around like a 1:1 truck.

Comes with two sets of springs for different ride height options.

Remove the springs from your stock Defender chassis and mount the damper onto the new shock mount. See instruction manual for details.
Two options included:
Dislocation Cone - spring detaches from upper bracket
Spring Retainer - spring stays inside bracket
Part #BRQ763071
Includes:
Damper Mount x2
Top Bracket x2
Bottom Bracket x2
Coil Spring 45mm x2
Coil Spring 50mm x2
Spring Retainer x2
Dislocation Cone x2
M3x10 Socket Countersunk Screw x2
M2.5x6 Socket Round Cap Screw x2
M3x18 Socket Round Cap Screw (reverse) x4
M3x10 Socket Round Cap Screw x8
Mcx12 Socket Round Cap Screw x4
3x6x5 Tapper Spacer for Damper x2