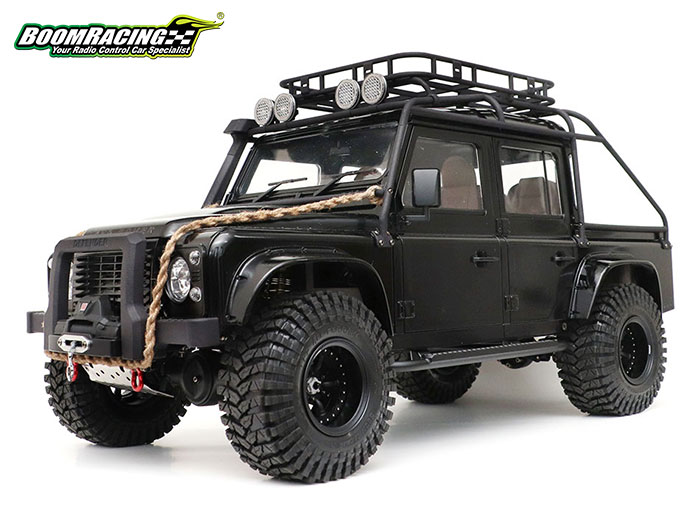 Complete Upgrade Guide For Boom Racing BRX02 With TRC D110 Bodies
This article serves as a complete guide for optional parts and accessories for the Boom Racing BRX02 and the Team Raffee Co. Defender D110 hard bodies.
Building the Boom Racing BRX02 with Team Raffee Co. (TRC) D110 hard body is both challenging and fun. With so many parts and accessories available, you can build them the way you want and truly make it your own.
There is a vast amount of accessories for the TRC D110 bodies. Below you can find a full list of body accessories to build the truck.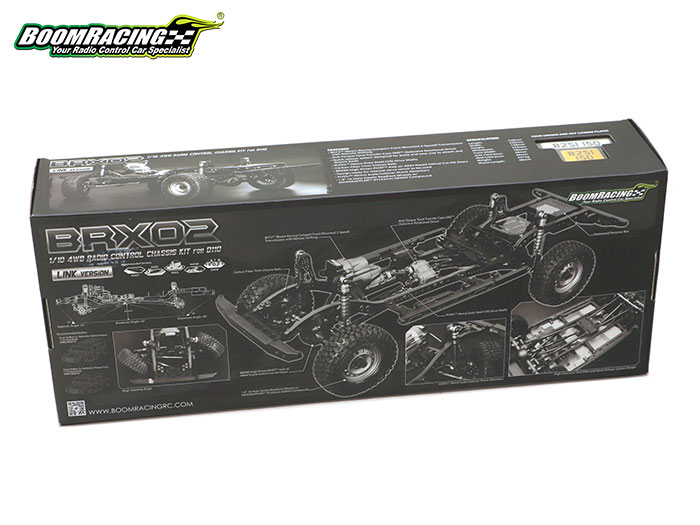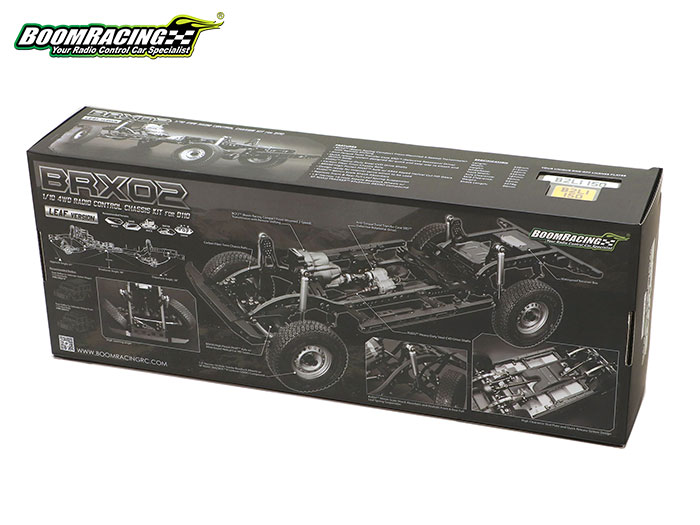 The BRX02 is available in full link version and full leaf spring version: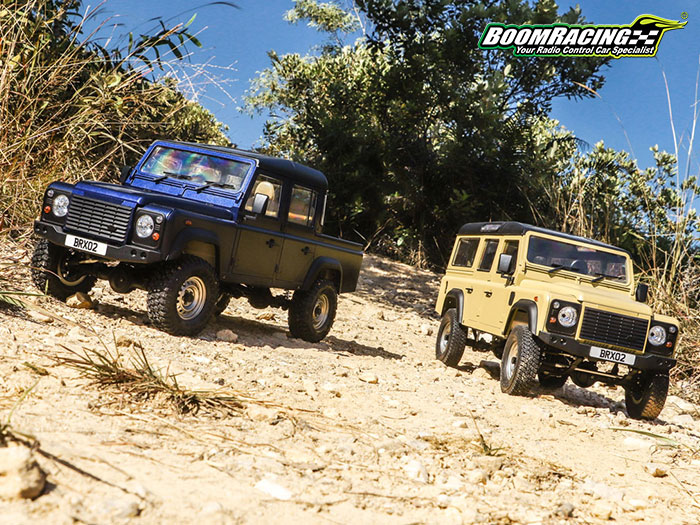 The two D110 bodies are available here:
TRC Defender Station Wagon 1/10 Hard Body D110 w/ Plastic Seats TRC/302214
TRC Defender Pickup Truck 1/10 Hard Body D110 w/ Plastic Seats TRC/302215
Is this the right truck for me?
This truck is right for you if...
You're looking to build a very detailed scale R/C model truck. This is one of the most detailed trucks on the market today
You want a hard-bodied truck that is also high performance
You want a highly adjustable chassis with almost zero torque twist
You appreciate good steering angles; over 45-degree turning radius
You want a reliable and efficient drivetrain with 2-speed
You own a few R/C trucks and are ready to add a special one to the fleet
You're ready to take on a more challenging build
You're looking to get into super-scale R/C trucks
You're open to trying something new
There are other reasons why you could be interested to get the BRX02. If you are on the fence about getting one (which is very understandable given the price range) I encourage you to check out the Official BRX01 / BRX02 Facebook Fan Group and ask any questions you might have in mind. Check out what others are doing with their BRX02.
Is it difficult to build one?
Similar to the BRX01 chassis, the BRX02 chassis is also "Bolt-On" kit. The front and rear axles are pre-built at the factory and you will just need to bolt-on these parts onto the chassis. The difference is that the BCF2 two-speed transmission, transfer case, and shocks are not pre-built.
For the TRC D110 hard body, if you've had experience with building static models, you can expect a fairly similar build experience with the body. You will get to work on hard plastic body parts and accessories which include painting, gluing, and installing small parts, scale nuts, and bolts. The body is suitable for anyone to build, even if you do not have any experience with hard bodies in the past. The TRC body comes with full instructions, and the paint will adhere to the plastics with ease. One thing to keep in mind is that there are many tiny phillips head screws that will take patience to install.
How much time does it take to build one?
If you've built the BRX01 chassis in the past, building the BRX02 chassis shouldn't be much different. The drivetrains on both chassis are almost identical. It should take approximately five to seven hours to build either chassis (link or leaf version).
Building the D110 hard body could take approximately the same amount of time, depending on how many accessories and how detailed you want the body to be.
List of Optional Parts & Upgrades: BRX02 Chassis

Chassis Accessories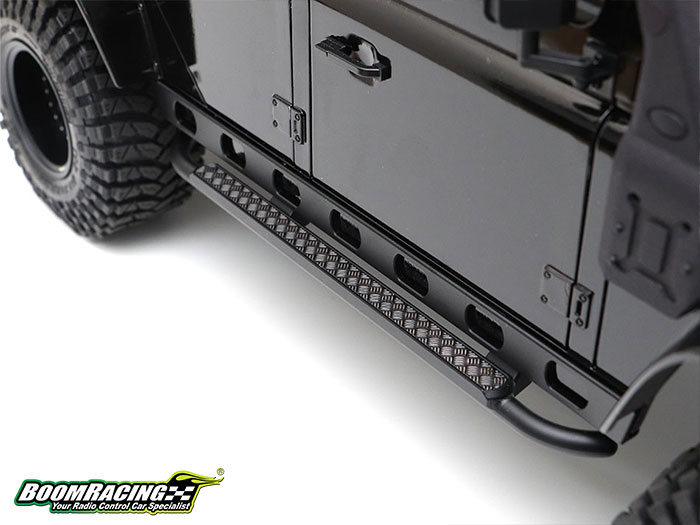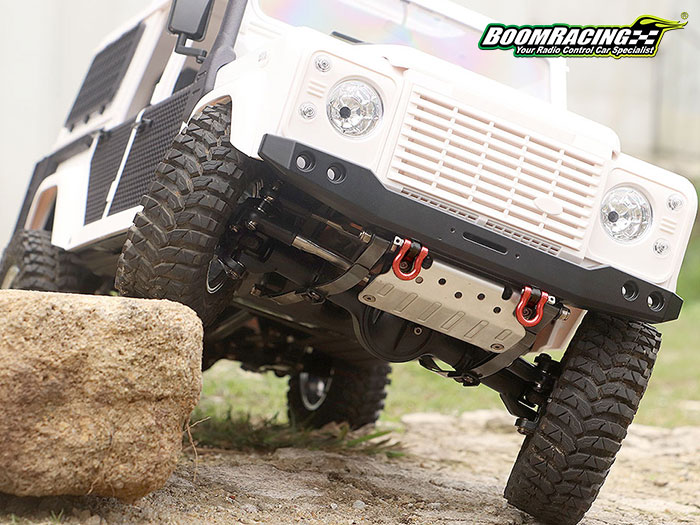 Bumper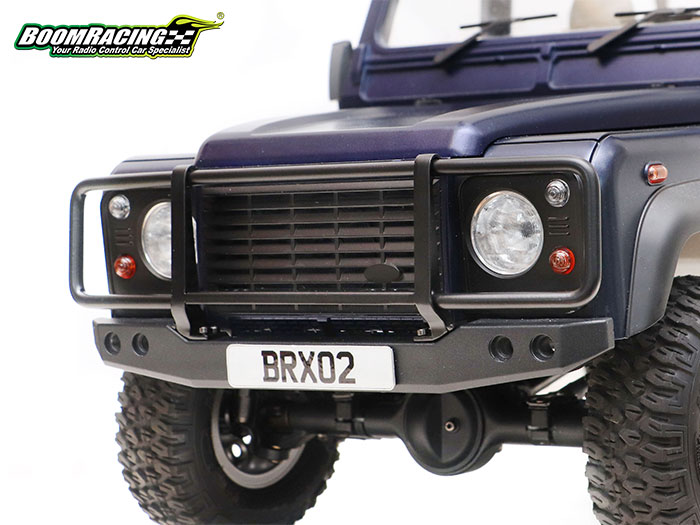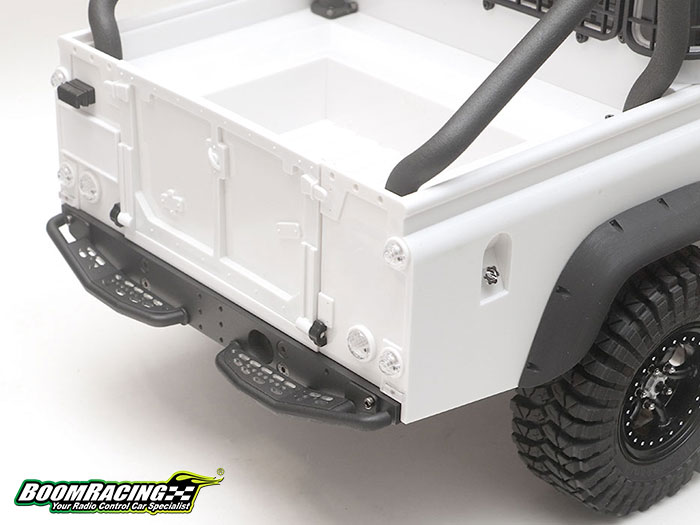 Suspension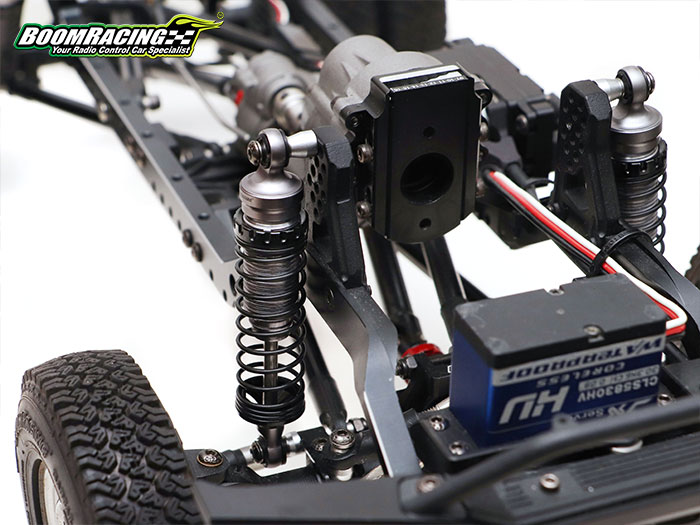 Drivetrain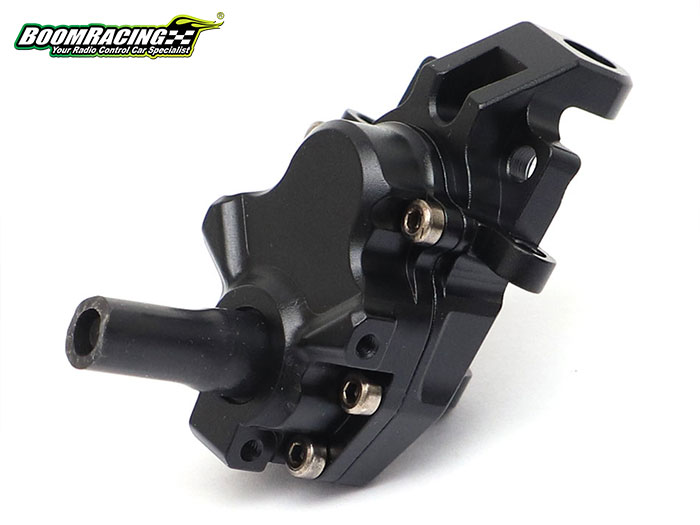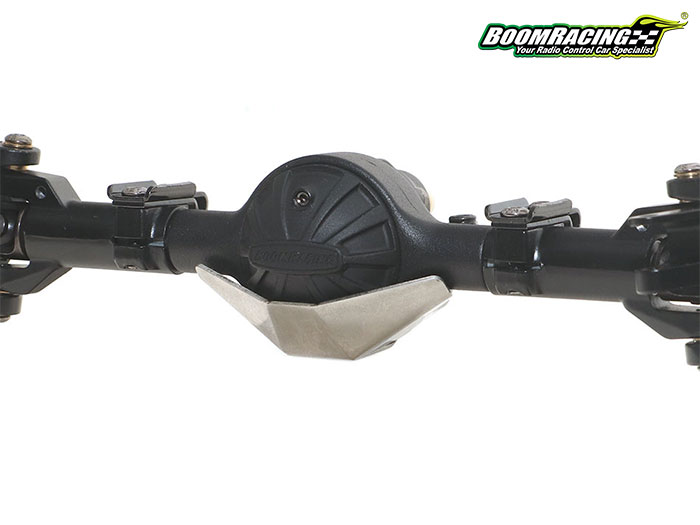 Boom Racing Brass Front Brake Disc Set for BRX70/BRX90 Axles BRLC7081F
Boom Racing Brass Rear Brake Disc Set for BRX70/BRX90 Axles BRLC7081R
Boom Racing HD Overdrive Keyed Gear Set (27/8T) BR955029
Boom Racing HD Overdrive Keyed Gear Set (24/8T) BR955040
Boom Racing HD Underdrive Keyed Gear Set (33/8T) BR955042
Boom Racing BRX01 Front Skid Plate for BRX70 & BRX90 PHAT Axle BRLC7086F
Boom Racing BRX01 Rear Skid Plate for BRX70 & BRX90 PHAT Axle BRLC7086R
Boom Racing XT Diff Cover for BRX70 & BRX90 Axle BRLC7088
Boom Racing Overdrive Transfer Case Kit BRLC70201-OD
Boom Racing Overdrive HD Gear Set for DIG/SWD/OD T-Cases BRLC70201-GEAR
Boom Racing Front Portal Axle Conversion Kit for BRX90 PHAT™ Axle BRPT9022KIT
Boom Racing Front Portal Axle Conversion Kit for BRX90 PHAT™ Axle BRPT9023KIT
Boom Racing BRX80 Conversion Kit for BRX01 & BRX70/BRX90 Axle BRLC7206
Boom Racing High Performance Full Ball Bearings Set for BRX70/BRX80/BRX90 Front & Rear PHAT Axles (18) PHAT7890BBZ
KUDU™ Heavy-Duty 110-130mm Steel CVD Center Drive Shaft (2) BRX020043
SWD (Selective RWD/4WD) Transfer Case Kit for BRX02 BRX020101-SWD
DIG Transfer Case Kit for BRX02 BRX020102-DIG
Weights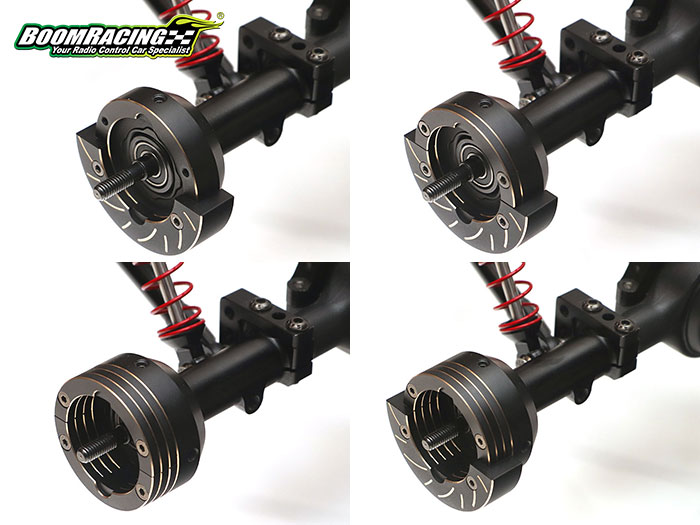 Wheels & Accessories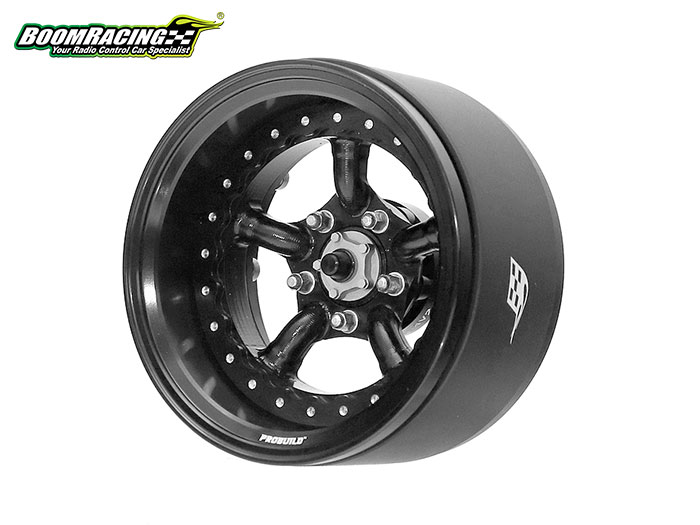 Tires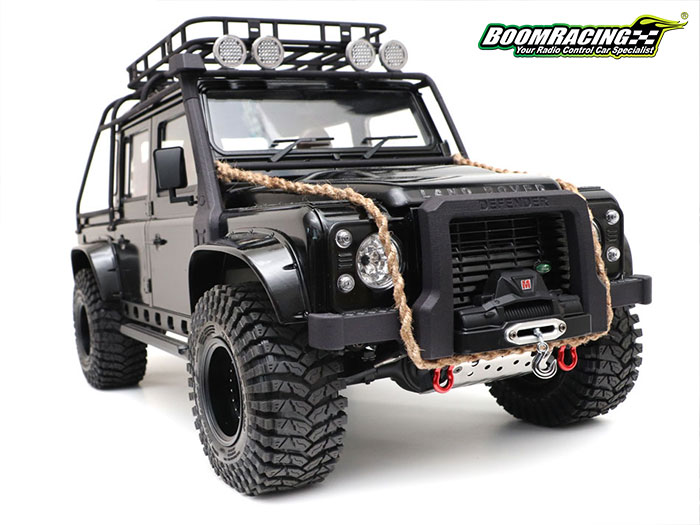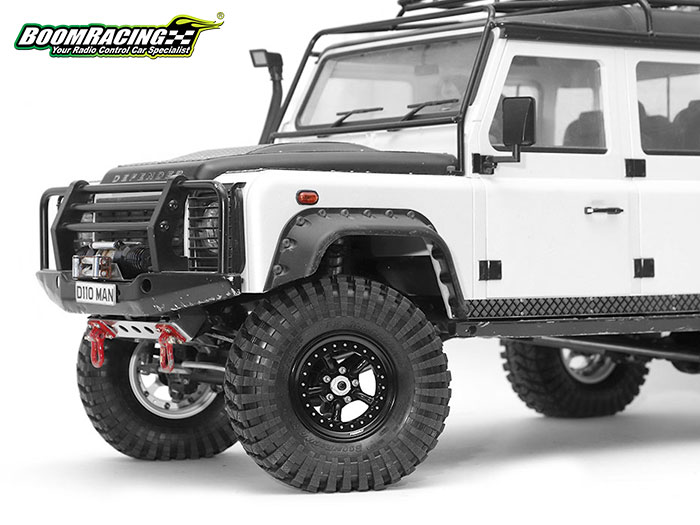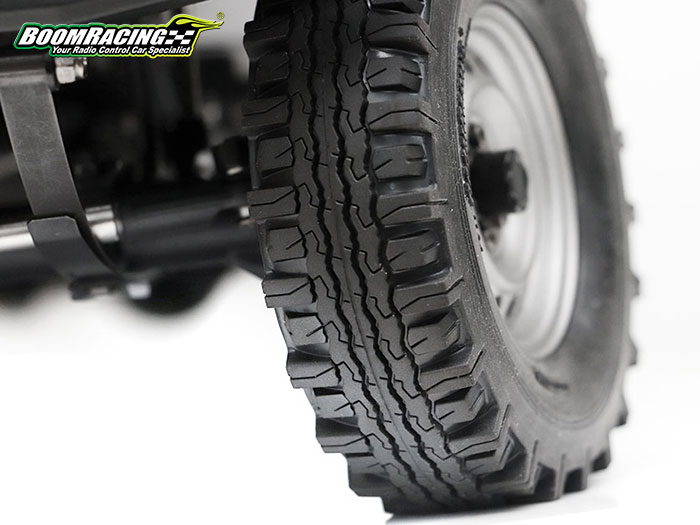 Tire Inserts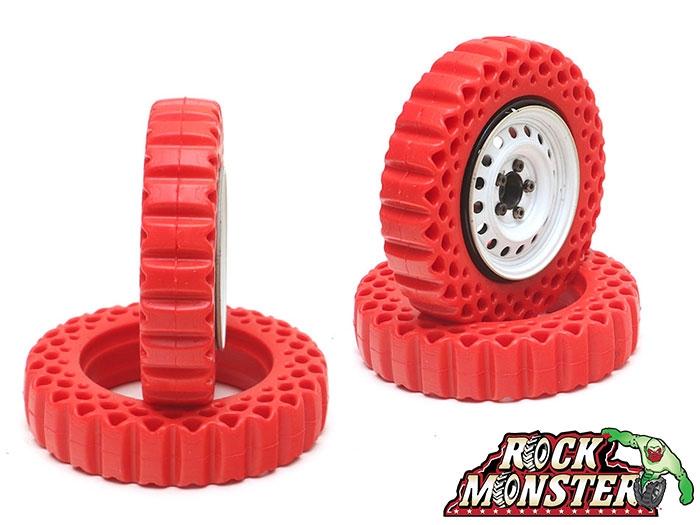 Rock Monster GREEN Silicone Tire Insert 3.38x0.91 (86x23mm) for 1.55" Baby Hustler / MAXGRAPPLER Tires (2) BRRM15504
Rock Monster RED Silicone Tire Insert 3.5"x0.84" (90x21mm) for 1.9" Mileage Classis / SP Road Tracker (2) BRRM19006
Electronics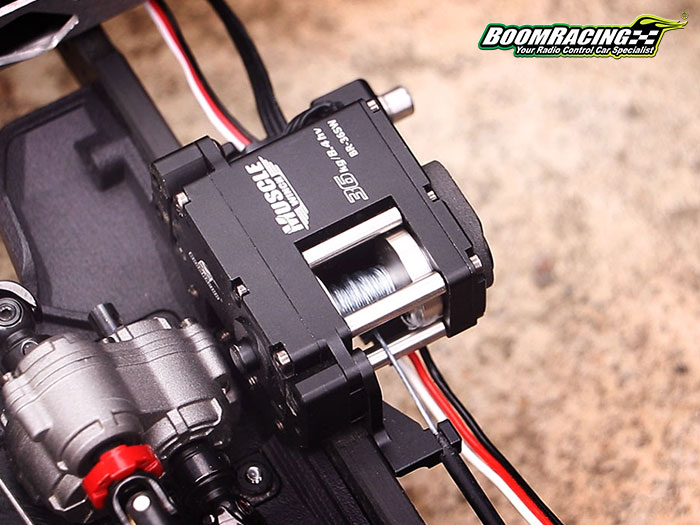 6x6 Conversion Kit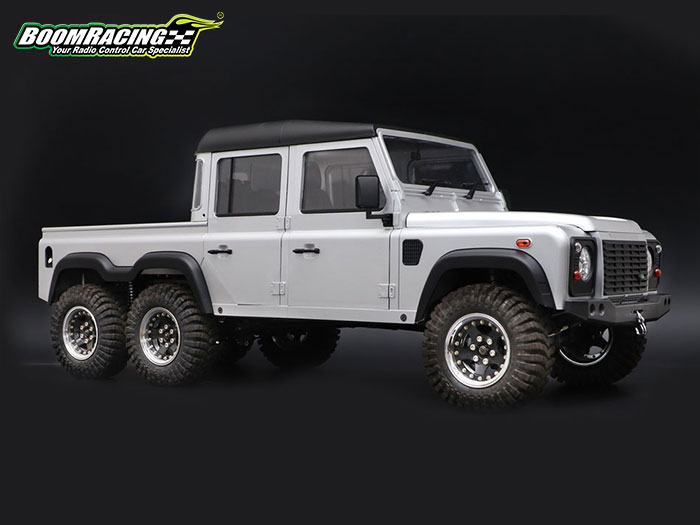 Boom Racing BRX02 Link 6X6 Conversion Kit for TRC D110 6x6 Pickup Hard Body BRX0266100KIT
Team Raffee Co. D110 6x6 Pickup Truck Hard Body Kit for Boom Racing BRX02 TRC/302331
List of Accessories for Team Raffee Co. Defender D110 Hard Bodies
Decals
Door & Window Accessories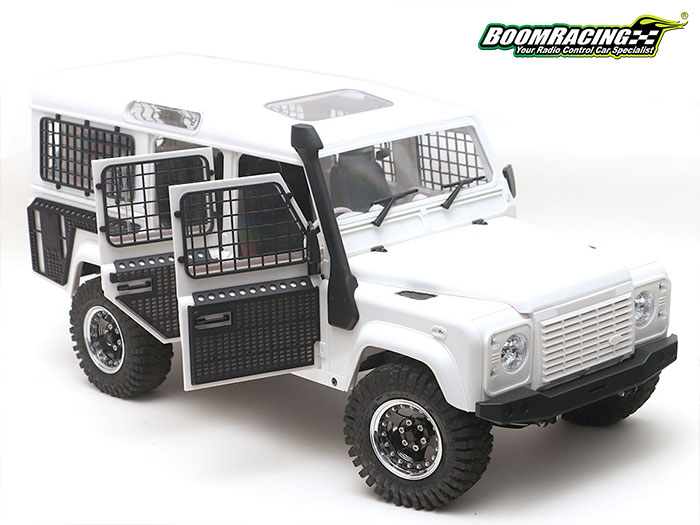 Fender / Wheel Arch / Body Panel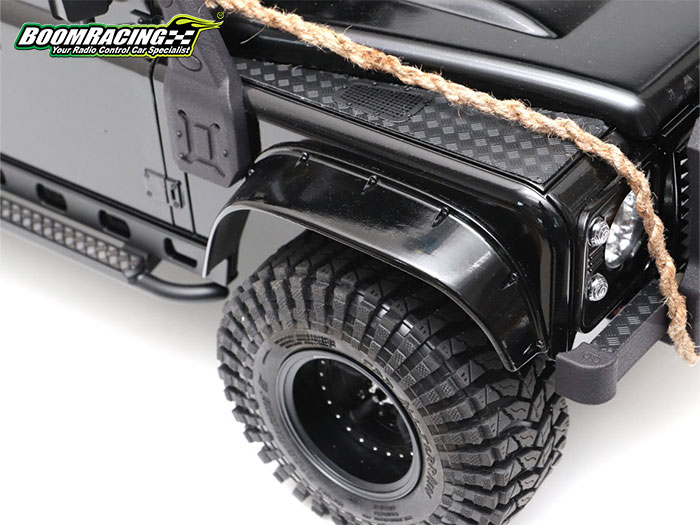 Grille & Accessories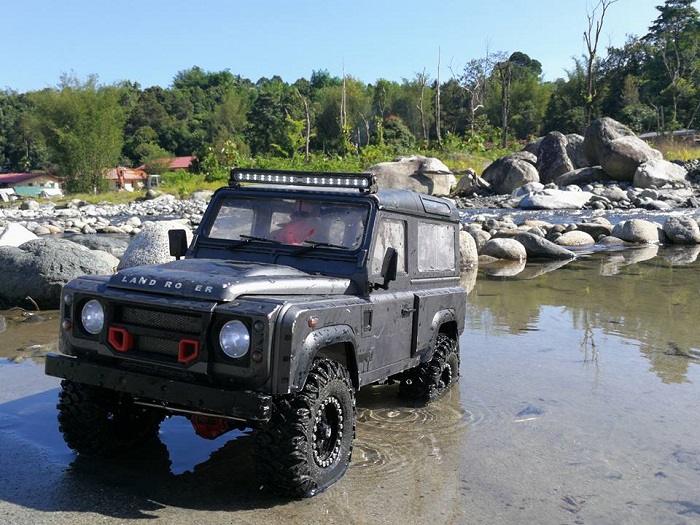 Hood & Hood Accessories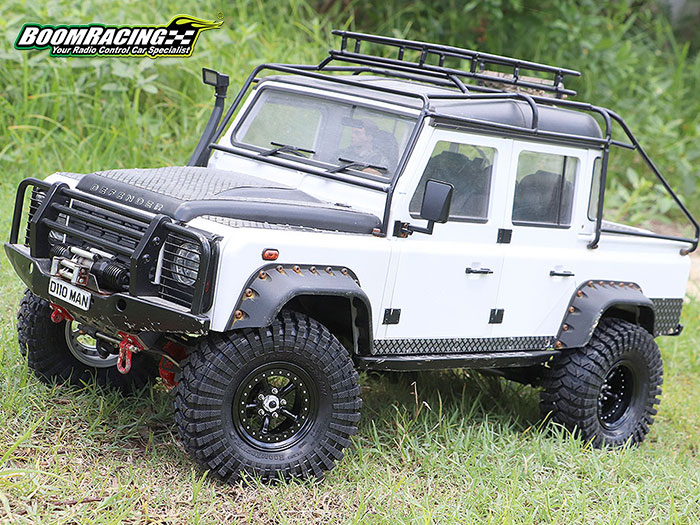 Interior
Lightweight Interior Front & Rear Molded Plastic Seats for Defender D90 / D110 Pickup and Wagon Body TRC/302754
LED Light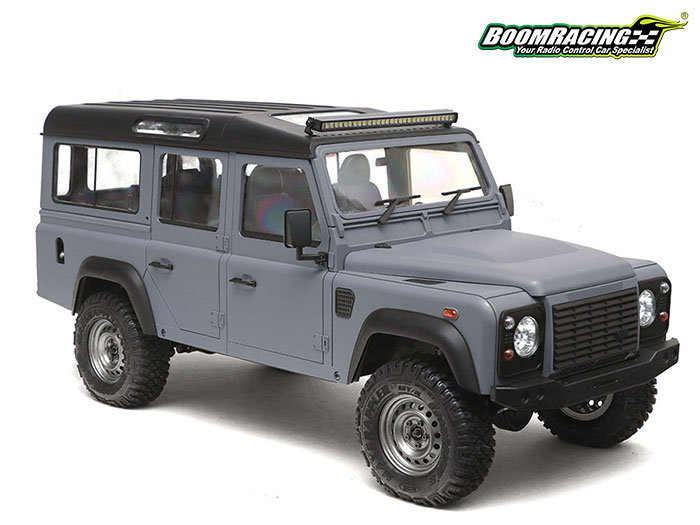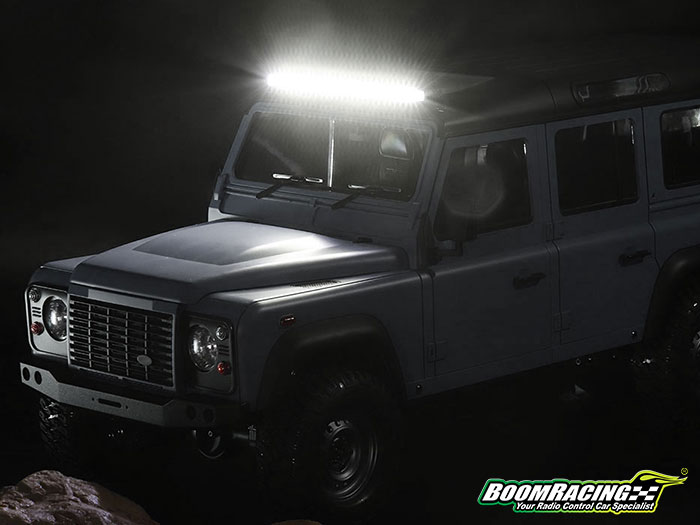 GRC 22mm Straw Hat LED Pro Strong Spotlight (2) GRC/G157GP
WOOW RC Camel Lamp (2 Pcs) WO/AT038
Roof Rack / Cage Accessories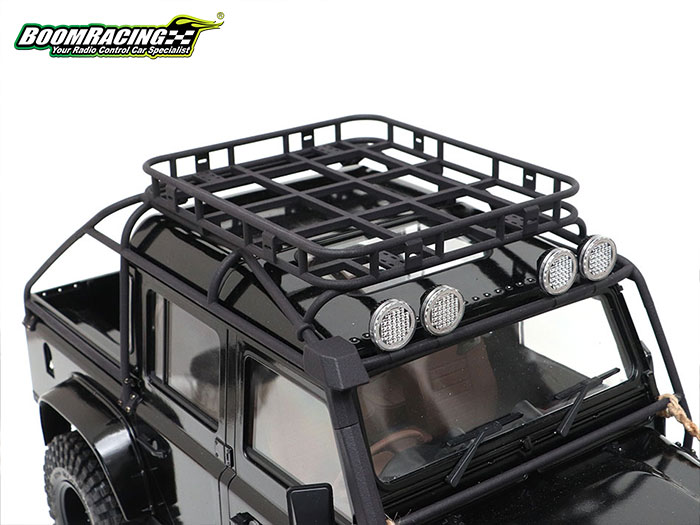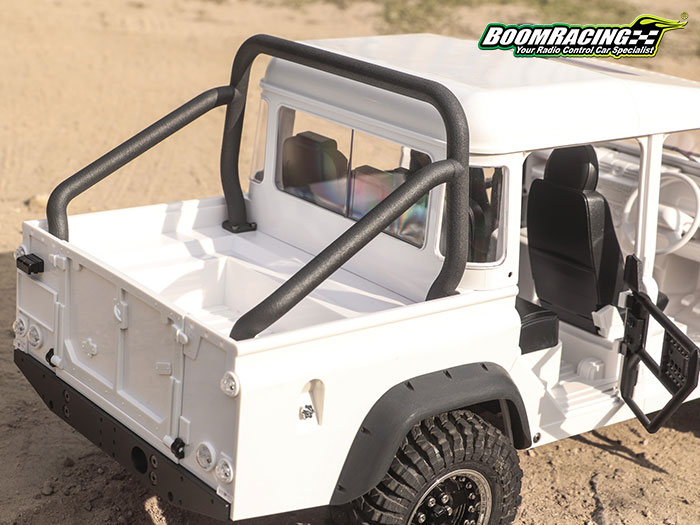 B3D™ Spectre Roll Cage Luggage Tray for TRC D110 Pickup BRX020099
B3D™ Spectre Roll Cage for TRC D110 Pickup BRX020098
B3D™ Roll Cage Luggage Tray for TRC D110 Station Wagon BRX020097
B3D™ Roll Cage for TRC D110 Station Wagon BRX020096
B3D™ Nylon Roll Cage for TRC D110 Pick-up BRX020074
TRC Metal Roof Rack Luggage for Team Raffee Co. TRC Defender D110 Station Wagon TRC/302214A
TRC Explorer Roof Rack For Team Raffee Co. TRC Defender D110 Station Wagon BRQ90324
TRC Adventure Metal Cage Rack w/ Luggage Tray for Team Raffee Co. Defender D110 Pickup TRC/302215A
TRC Expedition Roof Rack w/ LED For TRC Defender D110 Station Wagon BRQ90325
TRC Metal Door Protection Bars (75mmx2; 134mmx2; 148mmx2) TRC/302531
TRC Steel Roof Rack for TRC Defender D110 Pickup TRC/302260
TRC Steel Roof Rack for TRC Defender D110 Station Wagon TRC/302262
TRC Steel Roof Rack for TRC Defender D110 Station Wagon TRC/302524
Snorkel / Intake Accessories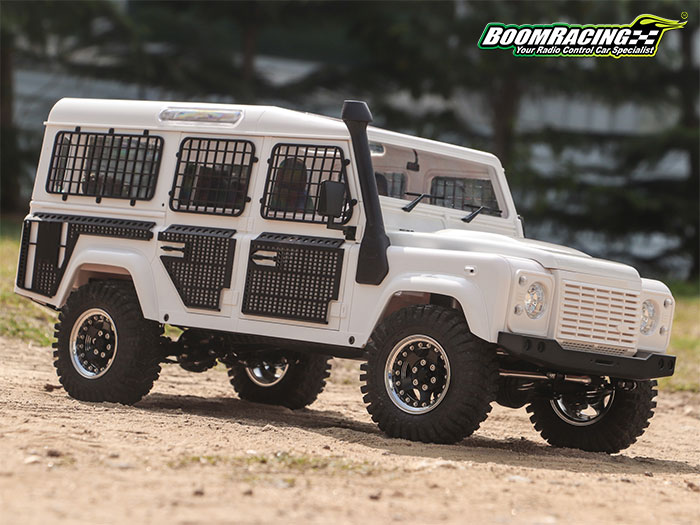 Tow Hitch
Scale Accessories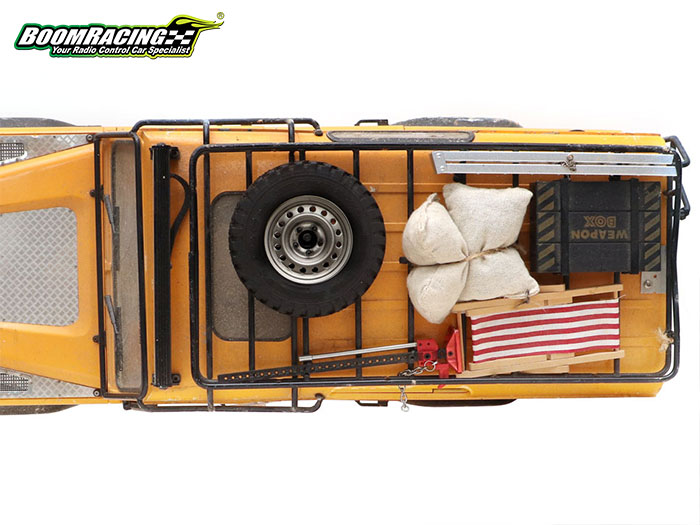 Last updated: October 28, 2022