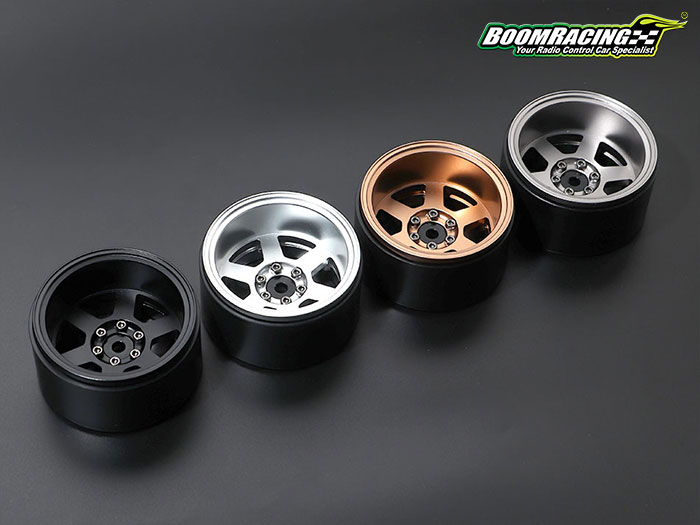 Boom Racing Releases TE37XD 1.55 & 2.2 Inch KRAIT Beadlock Wheels
Looking for the best aluminum deep dish offset beadlocks? The Boom Racing TE37XD KRAIT Beadlock Wheels are trail proven and used by top U4RC drivers.
The first TE37XD came out in 1.9" version. Boom Racing follows up with the 1.55" and 2.2" versions.
Each set of TE37XD wheels come with two XT601 aluminum hub adapters.
Specifications:
1.55"
Width: 24.6mm / 0.97 inch
Offset: 5mm (without hub)
Offset with XT601 Hubs: 6mm (without hex)
XT601 Hub offset: 1mm
Weight: 39 grams / wheel

2.2"
Specifications:
Width: 36.2mm / 1.43 inch
Offset: 8mm (without hub)
Offset with XT601 Hubs: 9mm (without hex)
XT601 Hub offset: 1mm
Weight: 89 grams / wheel

XT6 Hubs are now offered in different offsets:
BRXT601 - XT601 1MM Offset (2)
BRXT6015PIN - XT6015P 1.5MM Pin Offset (2)
BRXT604 - XT604 4MM Offset (2)
BRXT606 - XT606 6MM Offset (2)
BRXT608 - XT608 8MM Offset (2)