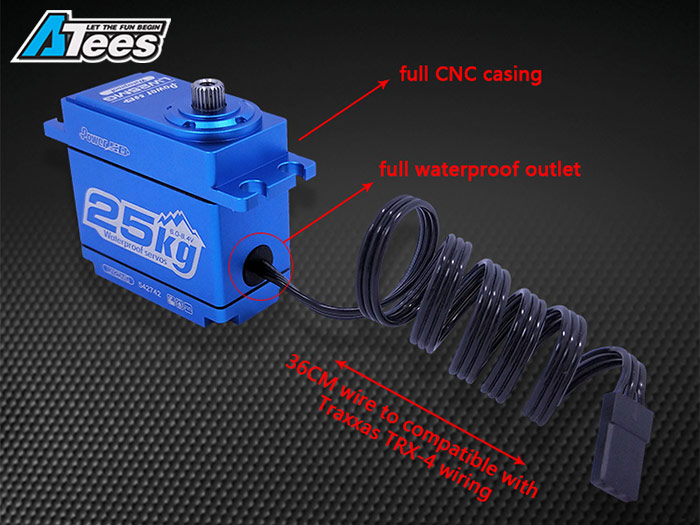 PowerHD Waterproof Metal Case Digital Servo LW-25MG
Power HD have introduced their full aluminum case budget-friendly waterproof HV servo LW-25MG.
It makes use of a CNC-machined all-alloy case for improved durability, newly wiring outlet structure for enhanced waterproof function, having 36CM wire to compatible with Traxxas TRX-4 wiring.
It is usable with 6.0V to 8.4V input, offer a torque of up to 25kg-cm at a speed of down to 0.14s.
Specifications:
Torque(6.0V): 23.0 kg-cm (319.4 oz/in)
Torque(7.4V): 25.0 kg-cm (347.2 oz/in)
Speed: 0.16 sec (6.0V) │ 0.14 sec (7.4V)
Operating Voltage:6.0 ~ 8.4 DC Volts
Weight: 72 g (2.54 oz)
Bearing Type:Ball Bearing x 2
Motor Type:DC Motor
Gear Type:Copper & Aluminum
Operating Temperature: -20℃~60℃
Working frequence:1520μs / 333hz
Size:40.7 x 20.5 x 38.6 mm ( 1.60 x 0.81 x 1.52 in)