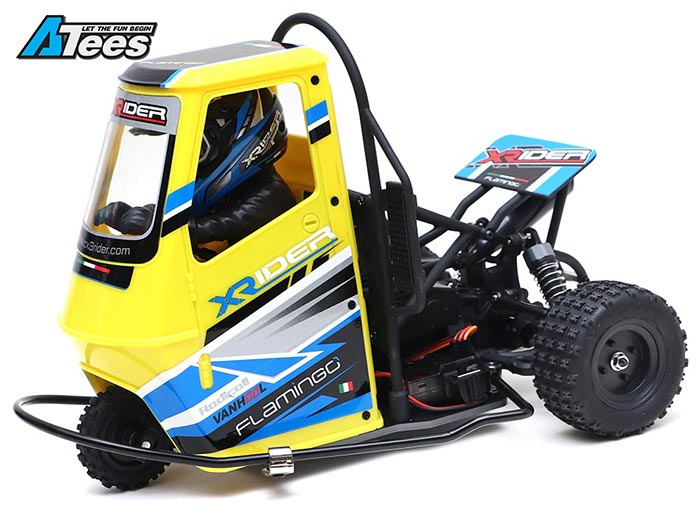 X-Rider Releasing 1/8 Flamingo 2WD RC Tricycle RTR
X-Rider is releasing the 1/8 2WD Flamingo scale replica of the Italian APE Car. It's fast, fun, nimble and doesn't tip over easily. Check out the 1:1 version video .
The all-new 1/8 Flamingo is based on the popular Italian Ape Cars. It features a molded hard plastic ABS body and includes a head-bobbing driver that adds to the cool factor. It has a steel roll bar surrounding the front portion of the chassis, to prevent it from tipping over.

We've driven it inside the office and notice it is not easy to tip over. The roll bar helps stabilize the tricycle to keep the tires on the ground. It's definitely a fun RC to drive.
Features:
High simulated ABS hard plastic car body
Adorable head-shaking driver
Thickened 6061 aluminum chassis
Reinforced metal guard
High strength fiber roll cage
High simulated water cooling radiator
High performance spoiler
Multi-link suspension
Retro truck rim
All terrain tire
Specs:
Ready-To-Run
2 in 1 ESC/RX
32T 370 Brushed Motor
7.2V 800mAh NiMH
Digital Servo
USB Charger
2.4GHz radio
Available in three colors: green, yellow and red.
Release Date: April 9
MSRP USD $135