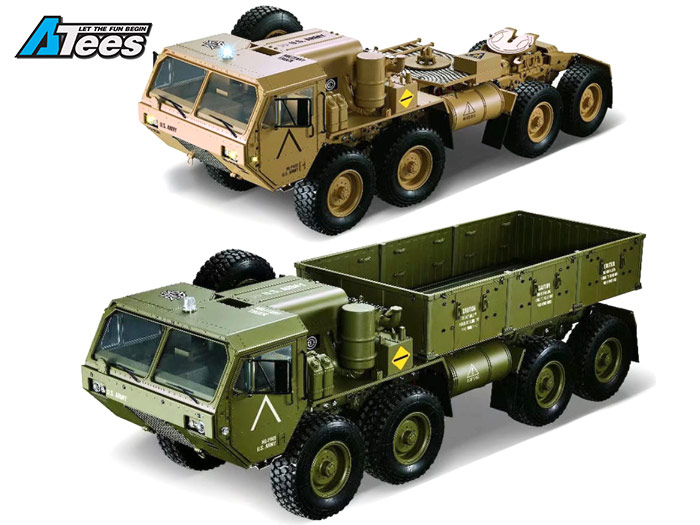 All-New 1/12 8X8 M977 And M983 U.S. Military Trucks
Two new U.S. military 8x8 trucks; the M977 cargo truck and M983 tractor truck have just been released and available on ATees.com today.
The M977 and M983 heavy expanded mobility tacical truck (U.S. Military) series of vehicles consist of a number of models all built on similar chassis and equipped to perform different missions.
These 8x8 off-road capable all-weather trucks are used by the U.S. military to perform line and local haul, unit resupply, and related missions in a tactical environment.
Both are pre-built and comes with a 2.4GHz radio system. You must add your own electronics .
Features:
Central transmission secondary mechanical gear position is adjustable (upgradable remote adjustment)
The chassis of the vehicle is made of zinc alloy 
The front and rear axles adopt a conical gear to straight tooth high-load reduction transmission structure
Spring steel plate shock absorber + telescopic double shock absorption
Variable stroke ball type universal joint shaft
Front and rear independent link type bridge system
8 rounds full-time drive, large traction can pull all kinds of equipment
Steering gear control disc can be freely disassembled
1/12 full scale RC Car model
The first 4 wheels adopt the wire rope pulling structure to realize the four-wheel synchronous steering
1/12 Scale Crawler with high strength ABS plastic body
Specifications:
Size: 739.5mm × 218.5mm × 242.5mm
Wheelbase: (128mm) × 258mm × (128mm)
Wheel Margin: 218.5mm Wheel Diameter: R111mm
ESC: 320A ESC
Motor: 550 Motor
Servo: 2 Copper Gear 9KG Digtial Servo
Transmitter: Frequency: 2.4G Remote Distance:≥ 100m
Material: Hardware, Zinc, Alloy, Electronic and Plastic
Includes:
RC Car (do not include the car battery)
2.4GHz Radio Transmitter and Receiver
ESC
550 Motor
Servo
Manual
Sticker 
Hardware & tools