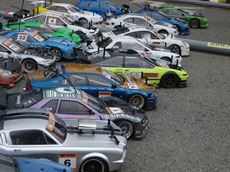 CNC Technology Cad Designed Race Car Parts
TopCad leads the pack in fresh designs which takes style to the next level. Its products are designed to look and perform just as good soaring through whoops and charging through corners as it does in the pits.

You can be sure that TopCad parts have the highest quality standards as chief designer K.F. Lee is the Asia World Champion in both onroad and offroad races.

TopCad knows how to go fast. It prides itself on the integrity of the designs, and on the Kryptonite strength of their products. With industry leading products such as high quality rubber tires and drift wheels, you can compete with others using the best R/C gears. When fixing your R/C car remember to check out TopCad tool sets. Its high quality wrenches and set up tools are affordable and beautifully finished. Check out other exciting products such as realistic light sets and luggage racks.

TopCad has everything you need for upgrading the performance of your RC cars and trucks. With products ranging from drift wheels, crawler winches, aluminum chassis parts, piggyback shocks and more, you do not need to look anywhere else.

TopCad is dedicated to good friends, good times, and great activities. Be sure to check out TopCad for all your R/C accessories needs from the largest online rc store for aluminum upgrades.