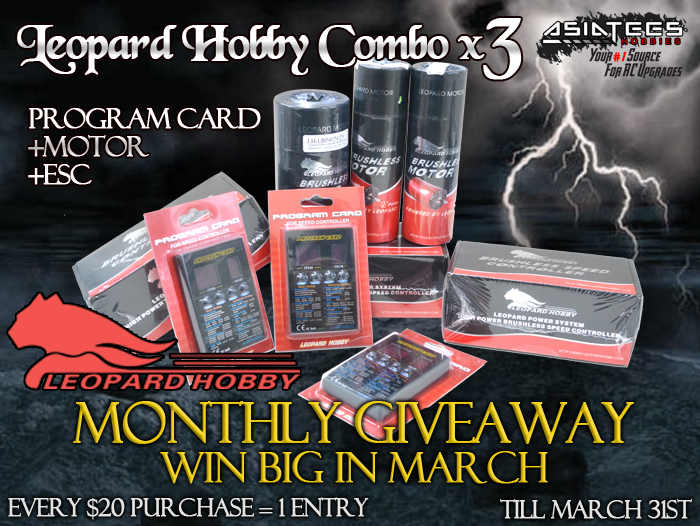 *March Giveaway* Leopard Hobby Combo x 3
Three items are included in each combo – one motor, one ESC and one program card – and all are from Leopard Hobby. Maybe you are worrying about not getting the one that you need. To put off the doubts and fears, Asiatees is letting you to decide which motor, ESC or program card you are going to get. Click here and open this page, you can choose whichever you want to make your own combo!

All you need to do for a chance to win is get yourself enrolled. You will automatically enter into our monthly lucky draw by purchasing any goods from AsiaTees.com. Every $20 dollars is worth one ticket. The more you purchase on our website, the more chance you will have to win. We will pick out 3 different winners after March 31st.

Our system will start counting all the orders that came in from 00:00 of March 1st, 2014 and ceases at 23:59 March 31st, 2014. The winner will be revealed during the first week of April. Please kindly note that after you get picked by our system as winners, we do need you to send us a photo of yourself to claim the prize and we will post your photo out to provide proof for the audience. Place your order now. You will get a big chance to get your car upgraded with these Leopard Hobby electronic parts.

Ps, just a little reminder, store credit discount will not be counted towards your giveaway entries. Good luck to all of you!