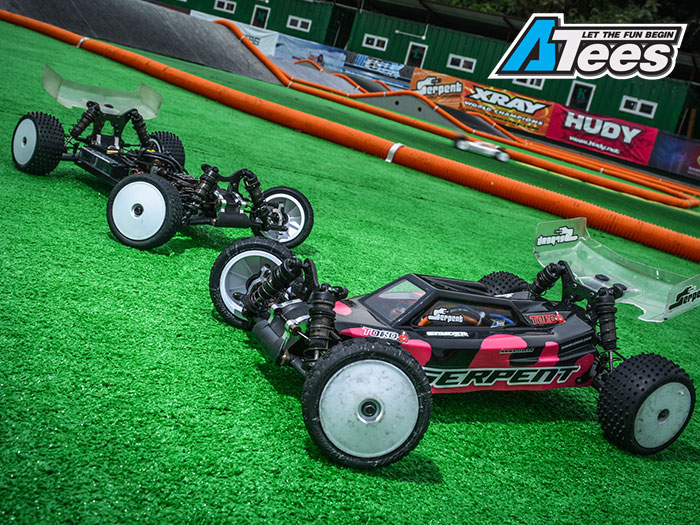 [Video] Serpent Spyder SDX4 1/10 Buggy
Serpent RC has a chokehold on the consumer Buggy & Touring market. With the new SDX4 buggy Serpent is establishing itself as the frontrunner for buggy racing as well.
Serpent Racing has always been a name known to advanced RC drivers, it is slowly winning the hearts of intermediate and beginner drivers as well.
The new SDX4 1/10 buggy has a high price tag, but not totally out of reach for the average consumer and you won't need to worry about upgrades, they got you all covered.
Serpent RC now has several RC  cars you can purchase which sits within the SDX4 cost. The 2wd Buggy SRX2 Mid Hybrid Buggy and the Project 4X Touring car both offer crazy new features and really high-end concept designs that will blow you away during the build process and in races.

SDX4 Feature:

- Lightweight Clamp Fitted Gear-Diffs Combined with a Central Slipper.
- Front and Rear Compact and Light Gear Diffs and Central Slipper
- 7075 T6 Aluminium Central Diff/Slipper Holder and Motormount
- 7075 T6 Aluminium Bulkheads Front and Rear,
- 7075 T6 Aluminium 2mm Hard Coated Chassis and Carbon Stiffeners
- 7075 T6 Aluminium C-Hubs
- 7075 T6 Aluminium Uprights, Equal L and R
- 7075 T6 Aluminium Hardcoated Suspension Brackets x 4
- Closed type Suspension Arms with Optional Carbon Top-Inserts
-  Pivotball type Inner Hinges
-  Bigbore 1/10 shocks with Hardcoated Housings can be used Emulsion or Membrame style.  
-  Spring Steel Universal Drive and Central Shafts .
-  Carbon Shocktowers ,
-  Carbon Chassis Stiffner
-  Carbon Mid Section Top-Plate
-  Carbon Top Steering Bracket
-  Carbon Steeringplate U-Bracket
-  Very low and Sleek 4wd Body and Large Durable Rear Wing
-  Top Quality Ball-Bearings


Rear suspension

Strong composite lower suspension arms with mounting spots for the pivotball activated anti-roll bar.  The arms are a closed type design for aero effect, rigidity and clean looks. On the upper side optional carbon inserts can be applied in case harder arms are needed for handling.  Composite insertplates are standard.

The rear arms have 2 shock mounting positions on each side front and rear. The front and rear shockmounting positions are different and the arms can be used on both sides of the car, so you have 4 shock angle positions to choose form.
The rear arms allow to mount the shocks also in the rear of the car.
 Suspension arms pivot balls

Instead of inner pivot pins the SDX4 uses small pivotballs which thread inside the arm.  The suspension brackets are machined to adapt the pivotballs and create a low friction, no binding suspension. By turning the pivotballs in or out you can set the optimal play between the front and rear bracket.
Suspension brackets

Hard coated aluminum suspension brackets fr fr and fr rr. Small but effective composite front bumper to protect the front end. The angled front built in kick up allows for smoother landings.
The rear rear suspension bracket can be used standard with o-degree or upside down as 3-degree anti-squat.
Bulkheads

The strong front diff case assembly based on 2 durable 7075 T6 bulkheads is a very strong affair to mount the diff-housings, front shock tower and chassis too. Its also features the holders for the ballraced anti-rollbarmounts. 


Anti-roll bar

Both the front and rear arms and bulkheads allow mounting the ball-raced anti-roll bars.  The wire type anti-roll bars are lasered for easy indentification. The wire connect to the arms with the proven friction free supersmooth pivotball system.  Its very easy to access and change the anti-roll bars as needed.
Motor mount

The motor is mounted securely to the thick 3mm cnc machined 7075 T6 alu motor plate. The motor is mounted to the sliderplate, which is then easily slotted in position.
Center drive holders

The slipper clutch unit is hold in place by the motormount bracket  and a H shaped lightened 7075 T6 aluminium holder topped by a carbon connector plate that also holds the cable guiders in place.  
The slipper can also be replaced by a geardiff in the center.   Its supereasy to access the slipper or central gear diff.
 Uprights

The lightened 7075 T6 aluminium uprights are same left and right and feature 3 camberlink positions.


Wheelhex

The front and rear wheel hex are 12mm industry standard size. The hexes are clamp type and anodised to last. Flanged wheelnuts are included to keep the wheels in place.


Body mounts

The strong composite body mounts are easily located in case used. As alternative velcro can be added to the side of the chassis stiffeners/side bars.


 Body

Top quality clear polycarbonate is used for the Spyder SRX4 buggybody . The nicely shaped body has flat sides and roof for extra downforce and great handling. It leaves enough space for electronics and cooling finds as needed.  The body closely follows the chassis shape, so less debris can enter the car. The body comes with a white precut masking sheet.
Rear wing and wing holder

The strong clear polycarbonate wing is mounted to the nylon rear wing holder.
ESC

High Power Output Hobbywing 160A XR10 Pro continuous current of 160A and Peak current up to 1200A high power output during competitions. with Hobbywing Wifi Express you can easily Wireless Connect your ESC for easy and quick adjustments.
The SDX4 starts at $533, definitely a 4wd Buggy that will appeal to the average consumer. Given its top speed with a Hobbywing 5.5T brushless Motor, that's probably a next level thing.
Of course, those customers might also consider Spyder SRX2 Mid Hybrid 1/10 2wd, a new version of 2wd Race Buggy. Serpent flooding the market with new Latest units thats heavily packed in their unique feature set and capabilities? well what do you guys think?, overkill right!?
 
Credit

I'd like to give a Big Shout out to Twin RC Speedway and Felix Law, Could not done this without you guys!

- Twin Rc Speedway
- Serpent Team Driver Felix Law


BySunnix Chan
Tags :Buggy, Serpent, Spyder SDX4, 4x4,
Source: http://www.serpent.com/home
Share:http://asiate.es/read?l=596JXJ1Q_Y7