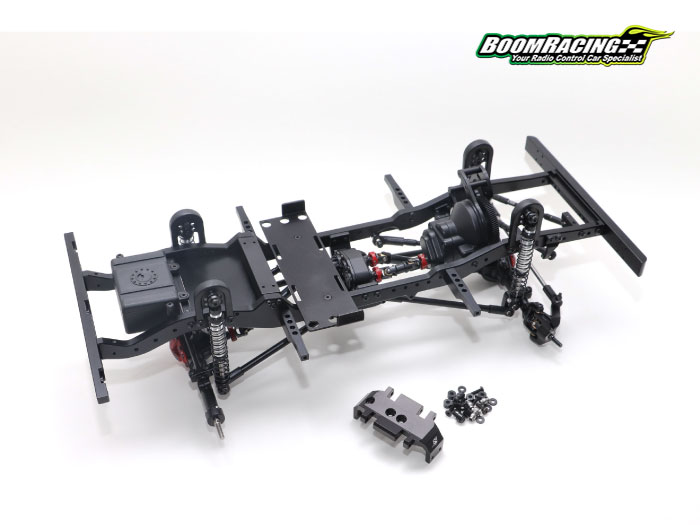 Installing Boom Racing D90 High Clearance Skid Plate Conversion Kit
This CNC aluminum skid plate gives you a significant increase in ground clearance for your D90.

It raises the skid plate up by 8mm.
This conversion set is made for the D90 chassis. It works with Boom Racing D90 or G2 transfer case. If you have the D110, this conversion kit will not work as you need additional parts to make it work.
Included in this Conversion Kit:
1X Aluminum High Clearance Skid Plate
2X M3 8mm Flat Head Screws (to attach transfer case to skid plate)
2X M3 12mm Flat Head Screws (for the raised battery plate with spacer)
4X M3 Button Head Screws (for attaching skid plate to chassis)
4X Badass Stainless Steel pivot balls (5.8x3x7.4mm) (for the rodends)
2X M3 4mm Spacer (for raising battery plate)
8X M3 1mm Spacer (for extending links)
Okay, let's begin!
Step 1: Take off the battery plate to make room for the transfer case.
Step 2: Once you have removed the battery plate, you can then remove the transfer case off the skid plate. Remove the skid plate off the chassis to make room for the new High Clearance Skid Plate.
Step 3: Re-install the new Skid Plate in the original holes on the chassis with the screws that are provided. Attach the transfer case onto the new Skid Plate with the two shorter flathead screws provided.
Step 4: After the transfer case and Skid Plate is mounted back onto the chassis, remove the rod ends off the link. Once removed pop the metal ball out of the plastic rod ends and replace with the one provided. The easiest way to do that is to put the ball end on the edge of the table and press down with a 7mm wrench.
Step 5: After swapping out the balls in the rod ends unscrew the grub screw a little bit so there is enough room for the 1mm and 4mm spacers to fit on and reinstall the rod ends onto the link. These spacers are used to adjust your wheelbase depending on what you have set your wheelbase to.
Step 6: Reattach the completed link onto the new Skid Plate using original screws that come out of the old one.
Step 7: To reattach the battery plate you have to use the long flathead screws that are provided with two 1mm and one 4mm spacer which are also provided. Remount in the same location. Once you have done this you have successfully installed the Boom Racing D90 High Clearance Skid Plate.
Two 1mm spacer and a 4mm spacer.
This is how is should look like after installation.
The result is 8mm additional clearance.
A reversed body with normal 2s lipo battery installedon a Team Raffee Defender D90 body