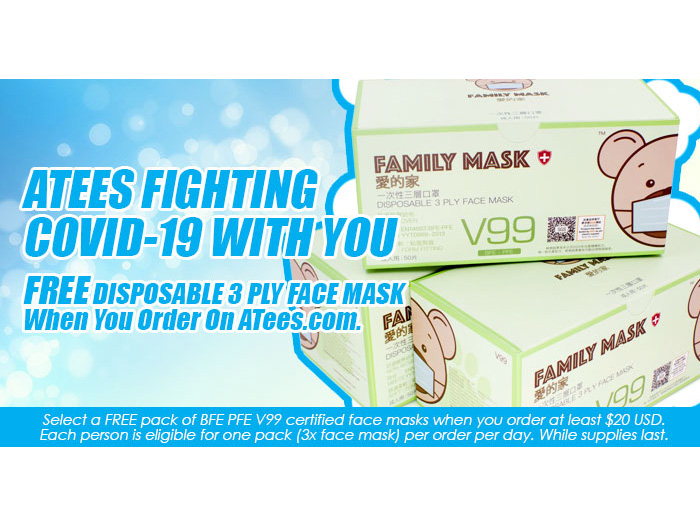 ATees Fighting COVID-19 With You
Get a pack of three disposable 3 ply face mask by Family Mask on any $20 USD above orders. Choose the Family Mask option at the shopping cart, that's all you need to do. The minimum purchase amount will not be enforced in the beginning.
This is a pack of 3 pieces disposable 3 ply earloop face mask by Family Mask.

From the manufacturer - Founded in February 2020, Family Mask has been determined to make a contribution to keep our home city a safe and healthy place. The core of our efforts is to relieve the striking demands of surgical masks in Hong Kong, so none of us have to suffer steep prices or queues. Because we are family.

Masks are tested and certified by SGS Hong Kong Ltd.

Face Masks by "Family Mask" are certified by SGS through Bioburden testing for Microbial Cleanliness, Particle Filtration Efficiency testing, Bacterial Filtration Efficiency testing, and Differential Pressure analyses. Produced in a Class 100,000 Cleanroom and certified BFE / PFE > 99% (EN14683), our masks are 100% safe for you and your family.

Complies with EN 14683:2019 and ASTM F2100-19 (BFE) and ASTN F2299 (PFE).
Mask Production date: April 15, 2020.
Only one batch is available.

Made in China.

For more information of this manufacturer visit:
https://www.familymaskhk.com/

Please refer to the World Health Organisation (WHO) website for more information on how to properly use masks to protect yourself.
The masks can be ordered here also:
Box (50pcs) http://asiate.es/item?l=168776
Individual Pack (3pcs) http://asiate.es/item?l=168127
Conditions:
While supplies last only.
This item cannot be returned.
Each person is eligible to obtain one pack of three masks per order per day.
Order at least $20 USD in total value.
ATees is not responsible for the usage of this item.
ByJason Tsang
Tags :COVID-19
Source: https://www.familymaskhk.com/
Share:http://asiate.es/read?l=BK89JF3MJ_Q