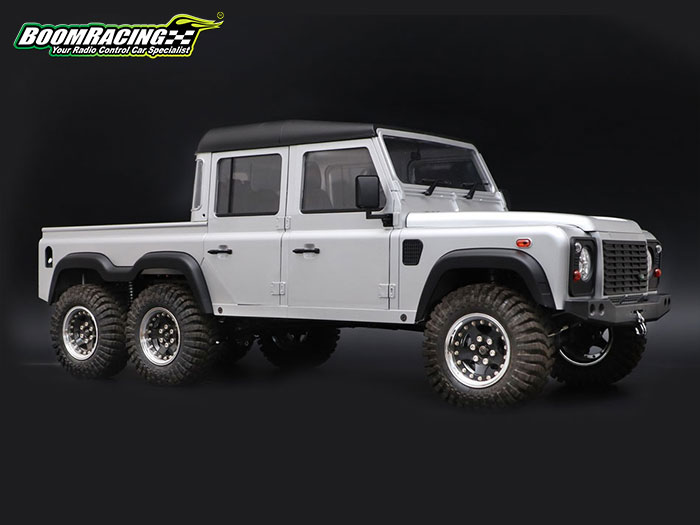 Boom Racing BRX02 Link 6x6 Conversion Kit
This is a full conversion kit to build a BRX02 6x6 ultimate crawler truck, based on the 1/10 BRX02 Link chassis (BR8004) and designed for the Team Raffee Co. D110 6x6 Pickup hard body (TRC/302331).
This 6x6 Conversion Kit features an all-new BRX90 Pass-Thru PHAT Axle. This axle replaces the original BRX02 rear axle as the pass-through axle in the middle. The chassis rails are extended with two aluminum rail extensions. Two aluminum shock towers are included for the two additional KUDU™ 90mm coil-over shocks. Two new aluminum lower link mounts connects the four rear lower aluminum links.
The original BRX02 rear axle is moved to the back of the 6x6 becoming the third axle. A new third member, together with a new ring and pinion gear replaces the original rear axle components. A KUDU™ CVD driveshaft connects the pass-thru axle with the rear axle.
The Boom Racing PHAT™ axle is the go-to scale truck axle combining high-performance features with precision-made scale realism. It is an ultra-scale, heavy-duty axle set designed for top performance for any truck builds. The beefy housing keeps the vehicle nicely planted on the ground.
Here's the list of the parts to build this truck: 
+ 1x Boom Racing 1/10 BRX02™ Link chassis (BR8004)
+ 1x BRX02 Link 6X6 Conversion Kit for TRC D110 6x6 Pickup Hard Body (BRX0266100KIT)
+ 1x Team Raffee Co. 1/10 D110 6x6 Pickup hard body (TRC/302331)
+ 1x 1.9" 5-Lug 16-Hole Beadlock Steelie Wheels (BRW780919RGM)
+ 1x 1.9" Maxgrappler Gekko Compound Crawler Tires (BRTR19397)