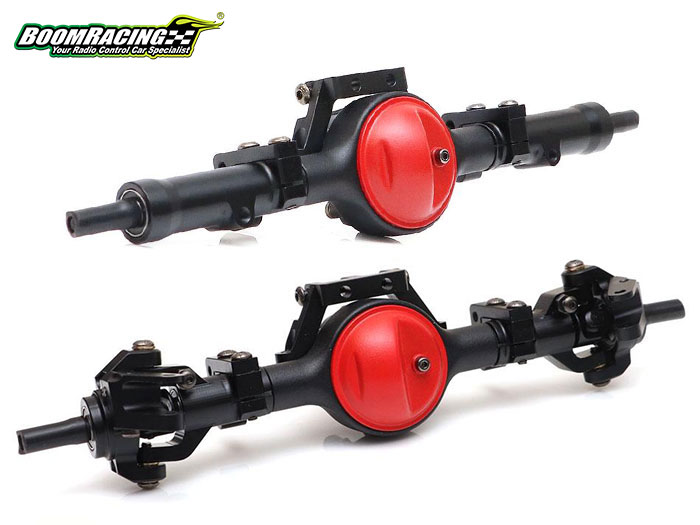 Boom Racing Complete Front & Rear Assembled BRX80 PHAT Axle Set
The BRX80 axle is a performance-based, high mass heavy-duty axle set designed for 1:10 scale RC crawlers and trucks. It can be easily installed in any project build.
Similar to the BRX70 and BRX90 axles, this latest BRX80 axle is packed with many features; heavy weight for low CG, reversible axle bevel gear positions, optional leaf spring over and under the axle, optional CMS or axle-mounted servo setup, optional behind-the-axle steering, detachable aluminum CNC link mount and third member, adjustable caster angle and more. Comes with heavy-duty steel keyed AR44 axle gears for ultimate strength and durability, an input shaft, and AR44 compatible knuckles.
Includes red color Diff Cover; optional Black color Diff Cover is available.
Includes black color Third Member (fits Reverse AR44 Helical Cut Bevel Gear for running Counter Rotating Center Drive Shafts usually used in the rear axle).
Size:
162mm pin-to-pin or 6.378 inches
Features:
+ High mass heavy-duty performance axle for crawler and truck projects
+ Straightforward solid-axle design and fits easily on many trucks
+ Reversible axle gear in the housing (option to swap gear to the opposite side for counter-rotation setup)
+ Heavy-duty keyed steel AR44 high pinion gear & input shaft
+ High pinion axle setup for better clearance
+ Chassis Mounted Servo (CMS) and Axle Mounted Servo (AMS) setup option
+ Detachable knuckle lever for a behind-the-axle steering setup option
+ AR44 knuckle arms are compatible
+ Leaf spring over and under the axle housing option
+ CNC aluminum truss included for 3-Link and 4-Link setup option
+ Adjustable caster angle for additional steering adjustability
+ BADASS HD Steel universal shaft for ultimate durability and strength for the axle drivetrain
+ High steering angle - over 45 degrees
+ Removable third member for 6x6 pass-thru option
+ Third member high pinion angle for better clearance
+ Counter rotation stainless steel tie rod steering link for quick adjustments
+ Options to convert to BRX70 and BRX90 axles
Includes:
1x PHAT Axle Housing
1x AR44 Heavy Duty Keyed Helical Bevel Gear & Input Shaft (30/8T) BR955020
2x CNC aluminum knuckles (AR44 compatible)
2x CNC aluminum C-Hubs
2x BADASS Heavy Duty Steel Universal Driveshafts
1x CNC Aluminum Truss
1x 4mm Stainless Steel Tie Rod Steering Link
2x 4mm Aluminum Drag link Steering Link
2x CNC Aluminum Link Mounts with multiple shock position options
2x CNC Aluminum 12mm Hex and Wheel Pins
Full set of rubber-sealed bearings set for BRX70/80/90 front axle
Full set of BADASS Rod Ends w/ Stainless Steel Pivot Balls Hardware