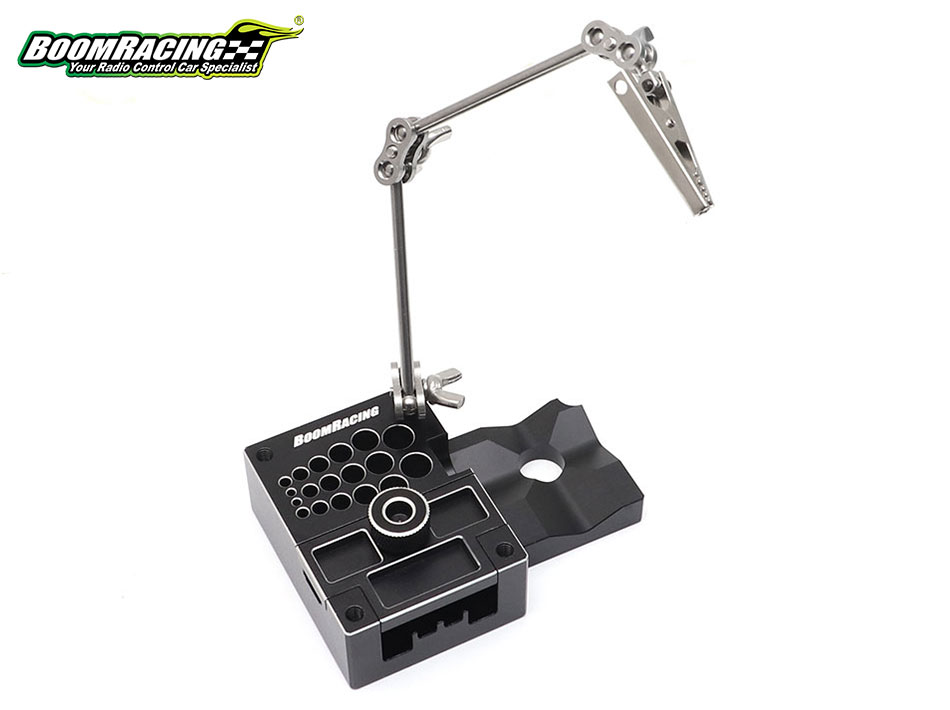 Boom Racing KUDU Multifunctional Soldering Jig
Being an R/C car manufacturer and hobbyists ourselves we solder many things on a consistent basis. One of the frequent pain points while soldering wires is not having a motor stand with the soldering jig. Having the motor roll around while soldering can be a time-consuming and unpleasant experience. We spoke to other hobbyists and found that they too experience the same issues. We went further by gathering their requirements and expectations to design an all-in-one solution.
The jig is ideal for soldering all types of R/C connectors, especially for R/C cars with the built-in steel electric motor stand. It works with many of the common types of R/C connectors and gives you the freedom to move to get the best soldering angles, with a sturdy base and compact design.
Features:
+ Flip-open steel base with V-groove for electric motors
+ Brushed motors will magnetize to the steel base and hold themselves in place
+ Flexible clamping arms (helping hands) and multiple mounting positions to precisely adjust the soldering angles
+ Strong and sturdy clamping arms which hold the wires firm and steady
+ Position plugs vertically and horizontally
+ V-grooves to hold cables and metal wires (1.2mm to 5.0mm)
+ Adjustable aluminum knob for different sizes of plugs
+ Multi-purpose aluminum tray
+ Up to four clamping arms (additional clamping arms available separately)
+ Heavy steel base for the most stable surface
+ Compact for easy storage
Specs:
+ Size: 50 x 65 x 35mm
+ Weight: 289.3g
+ Material: Jig: Aluminum / Base: Steel / Clamping Arms: Stainless Steel
Works with the following connectors:
+ XT30/60/90
+ Deans / T Plug
+ JST
+ Traxxas (1st gen)
+ EC-3/5
+ Deans micro 2pin, 3pin, & 4pin connectors
+ Bullet connectors 2mm, 3mm, 4mm, 5mm, 6mm, 7mm, and 8mm
Includes:
+ KUDU™ billet aluminum jig with steel base
+ Aluminum plate with an adjustable aluminum knob
+ Stainless steel clamping arm set
+ Hardware for installation