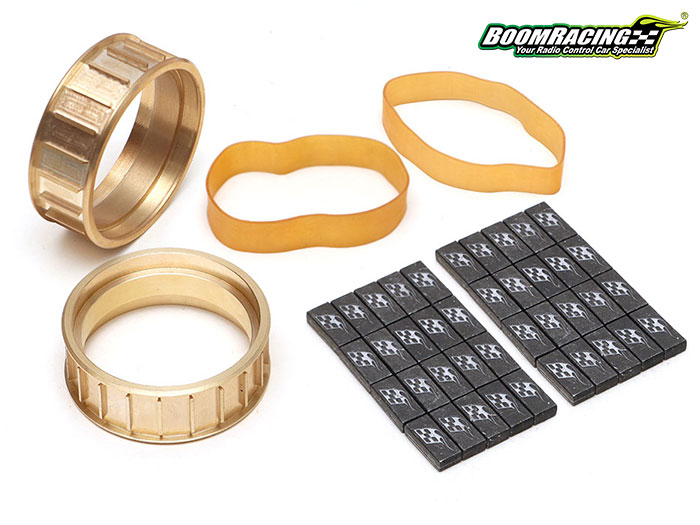 Boom Racing ProBuild™ Brass Center Ring W/ Lead Weight Set
This is a set of ProBuild™ 1.9" Brass Center Ring with Lead Weights, which makes it easy and accurately adjust and distribute the weight on beadlock wheels.

The original weighted ring was made when even experienced RC builders found it impossible to adjust their beadlock wheel weights precisely and would like to have a robust system to do so. With the Brass Center Ring system it allows you to do just that - adjust the weight of your beadlock wheels precisely.

Adding weight on the wheel is an advantage in many situations for R/C crawlers. It forces the tire onto the ground and grabs the earth with the weight pushing against it. There is a significant performance improvement by lowering CG (center of gravity) once this system is installed in your tires. The leads are secured with sidewalls and lead slots, optional rubber bands are also included.
The billet machined Brass Center Ring weighs 69 grams (2.43oz) each, and includes a set of Lead Weights that are 6.5 grams each, with a total of 20 pieces per wheel (40 pieces total). The Lead Weights have the Boom Racing logo molded in the center.
Specification:
Weight:

Ring: 69 gram / 2.43oz each
Lead Weight: 6.5 gram / 0.23oz each
Total Weight Range: 69g to 199g (2.43oz to 7.02oz).

Size:

Ring: 59.6mm x 21.5mm (HxW)
Lead Weight: 17.6x8.2x4.6mm (LxWxH)

Fits:
ProBuild™ 1.9" Wheels
KRAIT™ 1.9" Wheels

Includes:
2x Brass Center Ring
40x Lead Weight
2x Rubber Band

Availability: