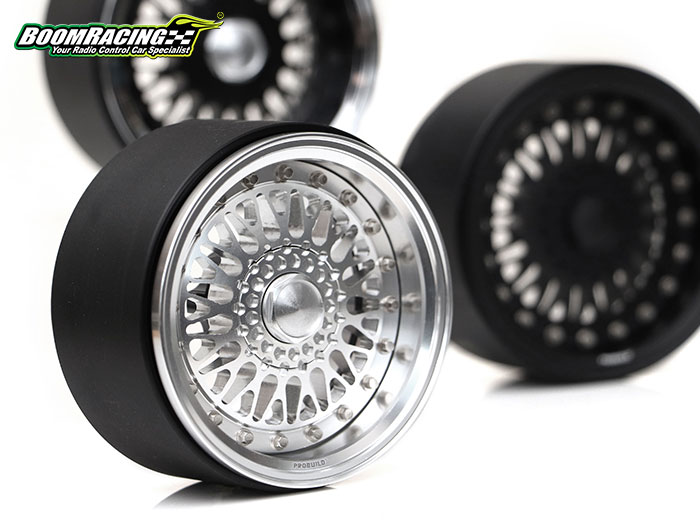 Boom Racing ProBuild 2.2" R01 Mesh Adjustable Offset Aluminum Beadlock Wheels
These all-new R01 Mesh wheels have the same proprietary ProBuild patented design that is easy to assemble with full wheel adjustability. Available in three styles: full platinum (
BRPB2208PLPL
)
/ chrome and black (
BRPB2207CRBK
) / matte black (
BRPB2206MBKMBK
).
+ Width: Standard
+ Barrel Color: Platinum/Matte Black/Chrome
+ Barrel Material: Aluminum
+ Center Ring Material: Delrin
+ Faceplate Style: R01 Mesh
+ Faceplate Color: Platinum/Matte Black/Black
+ Faceplate Material: Aluminum
+ Outer hardware: Scale Hex 12.9 + Cap Head 12.9
+ Bolt Pattern: 6-Lug
+ Hub: XT604V2 (4mm Offset)
+ Hub Hardware: Cap Head 12.9
What makes PROBUILD probuild?
High changeability, unlimited possibilities
Built-in offset options
Revolutionary and cutting-edge designs
Engineered to the exact specifications of world-class drivers
With unlimited combinations of colors, faceplates, multiple offset options, etc, ProBuild wheels is a game-changing design for how we build and match custom rigs. No longer are we stuck with a full set of wheels that remain the same for too long.
Specification:
Diameter: 2.2"
Width: 36.5mm or 1.437"
Inner Wheel Clearance: 52.5mm or 2.067"
Weight (per wheel): 93 grams per wheel (fully assembled) / 81 grams per wheel (without hub and hardware)