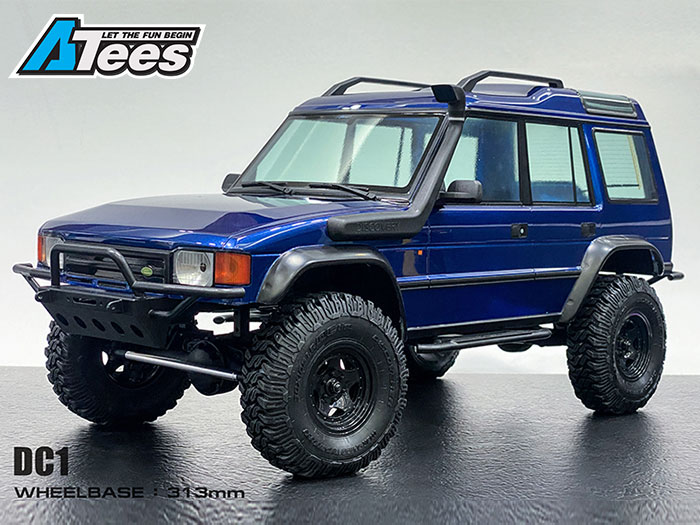 New Release Date For MST DC1 CFX-WS Short 1/10 Crawler Kit
MST just updated their release date for the MST DC1 CFX-WS Short 1/10 Crawler Kit to mid August and is scheduled to ship on ATees.com on or before August 16, 2021.
We are told that production has been delayed due to raw material processing challenges.
Here's the lowdown on the CFX-WS chassis:
The brand new CFX-WS chassis comes with a new front and rear axle design, which has great ability in both climbing and reality. The newly designed SA25 axle consults realistic simulation and good performance.
The chassis is a concept from the actual vehicle configuration, with a front-mounted motor and rear-mounted battery, for great climbing performance and body balance ability. The chassis is equipped with brand new DC climbing tires for good grip and exterior.
SA25 front and rear axles are integrated design for a realistic shape and good strength. It is 25mm wider than the MSA axle, and longer ground clearance, and better traverse ability.

The threaded aluminum cylinder with the spring retainer can quickly adjust the vehicle height, preload, and other settings.
It has the longest actuation stroke than other same level shocks in the market. The full shaft travel range is 20mm.
When the player faces the sinister terrain, it provides excellent smooth shock absorption.


The planetary gear design provides the efficient transmission and the characteristics of a high reduction ratio for the power output level stable and powerful.
The dual slipper clutch design increases the surface friction also provides a more accurate holding power.
The m0.6 pitch spur gear is capable of high torque applications
.
The car is equipped with high-strength metal gears for good transmission efficiency and durability.
The 1.9" realistic wheel is good in both durability and appearance.
The large size as a true crawler tire by the mix-materials has the excellent off-road performance also keep the on-road driving ability.
Large blocks design provides excellent bite when the going gets tough!


The aluminum links have good durability and rigidity. The Four-link suspension system is good for climbing ability.


The full ball bearing set can reduce the operating resistance and provide better operating efficiency and longer operating time.


The steel CVA drive shaft is good at smooth transmission and better efficiency.
Features:
Front and Rear SA25 Axle
TC70 Aluminum Shock Set
Planetary Gearbox & Dual Slipper Clutch
All-metal Transmission Gear Set
1.9" Wheel & Realistic Scale Tire
Aluminum 4-link suspension
Full ball bearings
Heavy-duty CVA Shaft
Realistic Steel C-Channel Frame
Great Steering Angle
Gear Ratio : 1:31.7 ~ 1:46.7
Tire Width/ Diameter : 30x105mm

Specification:
Length: 527mm
Width: 224mm
Height: 252mm
Wheelbase: 313mm
You will need:
ESC
Motor
Servo
Transmitter & Receiver
Paint
Tools for assembly
Part number: MST/532196