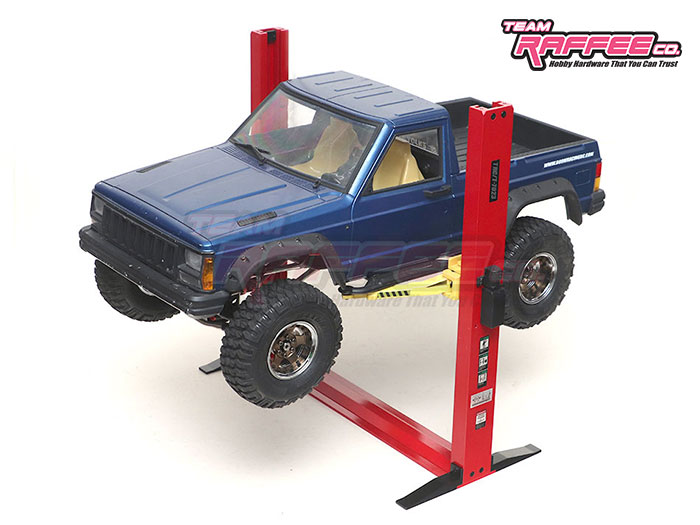 Team Raffee Co. 1/10 Alum Functional Two-Post Car Lift
Team Raffee Co. releases this all-new two-post car lift that is a must-have for any scale garages.
This is a Team Raffee Co. 1/10 Aluminum Functional Two-Post Car Lift. Perfect for any scale garages or just to keep your RC cars and trucks organized nicely! Great starting piece if you are looking to build a scale garage. Fully adjustable and realistic in size and appearance. This two-post car lift is made out of billet aluminum for maximum durability and strength. The top aluminum cross-post can be removed.
Features:
Billet aluminum two-post construction
Fully-adjustable lift arms to fit different scale vehicles
Arms can be extended and adjusted as needed
Arms can be placed in an open position to drive the cars in

Specification:
Lifting capacity: 20kg (44lbs)
Rise: 267mm
Rise + Pad: 270mm
Minimum Height: 20mm
Overall Height: 371mm
Overall Width: 345mm
Overall Length: 177mm
Inside columns: 311mm
Drive-Thru Clearance: 265mm
Front Arm Reach (max): 113mm
Front Arm Reach (min): 83mm
Rear Arm Reach (max): 139mm
Rear Arm Reach (min): 98mm
Floorplate Height: 10mm
Floorplate Width: 55mm
Weight: 1830g

Fits:
Any 1/10 and smaller RC cars, trucks and crawlers.
Available in blue and red colors.