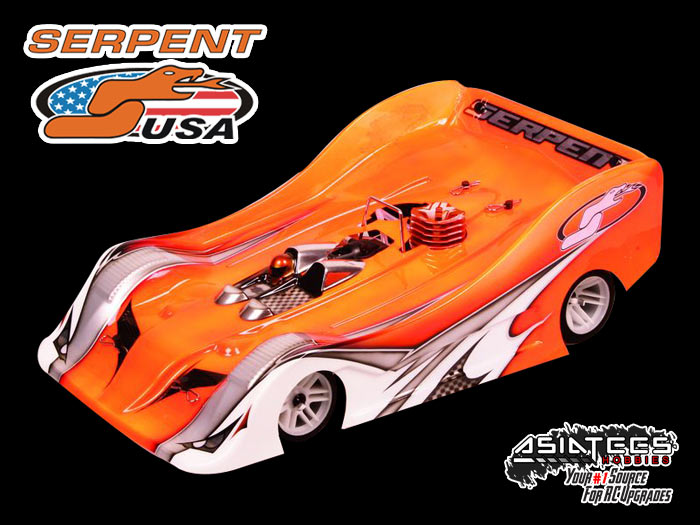 Top 5 Upgrades For Serpent 966e
When Serpent 966e, 1/8 scale electric powered on-road car, first came out, it was famous for its 4 wheel drive, single speed and belt-driven, which is suitable for large brushless motors and Lipo racing battery packs. As the next generation race-car, 966e is designed based on the highly successful Serpent 960 platform. For 2011 season main updates, more new crucial upgrades created more flex for the car.

Without any doubt, Serpent started with the shock set (Part# SER/903334). Complete pre-assembled short RCC-X shock absorbers come with optional 1, 2 & 4 hole-pistons. The 2009 version RCC-X has a better seal / support package. The shock rod is supported better with the delrin bushing, and a new design x-ring, made of a special silicone rubber (instead of an o-ring) provides a better seal at less friction. A new mould for the nylon parts has been made, so also the nylon parts of the shocks are improved, both pistons and ball-joints too. Super smooth shocks! These shocks not only fit all 1/8 and 1/10 gas-cars, but also 1/10 electric touring cars.

Similar to the above, Serpent also made the following shock set (Part#SER/160100). Hard Teflon coated threaded shock bodies in high quality aluminum. Super smooth O-ring/bushing package is able to guide and seal the spring-steel piston rods. Precision molded pistons are included in 3 types and threaded pre-load shock nuts in aluminum with O-ring inside. The part is light in weight, but strong enough with the nylon spring-cups, which will fit tightly on the ball-joints. Together with the short ones, perfect fit long ones (Part# SER/160101) are available as well.

New version front bumper for 966/960 is made of almost unbreakable composite nylon, with new shorter aero (SER/903379) dynamic design. Higher curved edges on rear side to prevent bending down during the race. The most outer lowered surfaces are very thin and can be cut out with a hobby-knife easily to influence steering. The bumper is shorter and the front is flatter to accommodate the low "noses" of the current body shells.

Another great upgrade for 966e would be rear upper suspension set (Part# SER/903384). Serpent introduces this new version rear upper suspension-set to enable the use of a new rear end geometry version. Instead of using a normal wishbone, Serpent introduces a ball-link system, combined with a new carbon camber bracket. The set improves rear end grip, which makes the 966e even easier to race and faster. This suspension fits on all Serpent 966 cars with no further modifications needed. All fasteners and shims are included. The set creates very open rear end. Combined with #903377, this set is very nice and easy for maintenance and cleaning.

Ready to keep your 966e being edgy? You've got all the secrets for that.