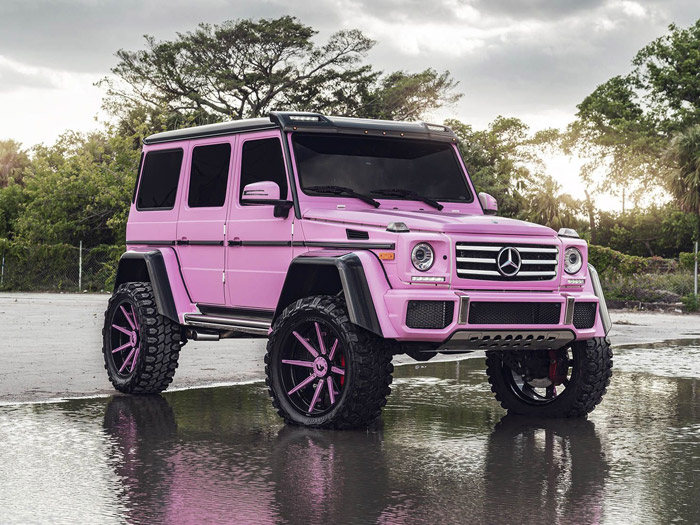 Traction Hobby 1/8 Brabus G550 4X4 G-Wagen Crawler RTR Pink Ed.
Is this girl power? How often do you see a pink RC crawler, let alone a Brabus G-Wagen? Traction Hobby just released a Pink Edition 1/8 Brabus G550 4X4 Crawler Ready-To-Run.

Features:
Multi-Connection Formed Steel Crawler Chassis, Dual-side pipe design. can ensure the strength of the crawler.
Nylon Front and Rear Axles are strong and durable. The new design-axle bridge extension kit gets more steering angle. Add brass weight.
Takes full advantage of its excellent 45º steering angle to get better traction, you can easily clear the technical terrain obstacle.
Remote Control Front and Rear Diff Locks. You can lock and unlock the front and rear differentials to adjust your driving needs directly from the transmitter.
Partition transmission system. Shift Between 2WD and 4WD easily.
Remote control High/Low 2 speed transmission. Low speed gear ratio is 2.9, high speed gear ratio is 1.
Reverse transmission function can be anti-torque twist and makes crawler get better performance
High simulated new-design body set, light brace kit, Front & Rear wipers, barde wheel brow, rearview mirror
2.2" metal rim and 4.7×1.6, R2.2 tire (Pro Comp authorized)
Multi-mounting hole position of steering arm is optional, Ackermann steering hole and common hole
Led Light Module include Turn Left & Right / Brake / Day Light

Specification:
Scale: 1/8
Length: 642mm
Width: 280mm
Height: 307mm
Wheelbase: 374mm
Wheel track: 237.5mm
Chassis underground clearance: 75mm
Minimum underground clearance: 52mm
Approach Angle: 47°/ Departure Angle: 42°/Passing Angle: 51°

Power:  
Motor RS775 14T Brushed Crawler Motor
ESC: Hobbywing QuicRun WP 880 Dual Brushed 80A ESC
Battery: Suggest 7.4V-14.8V 2-4S LiPo battery (Not included)

Frame:
Chassis frame: Multi-Connection design formed steel and high simulation double-side pipe chassis
Suspension: Nylon front and rear straight axle/non independent
Shock Absorber: 102mm Metal shock absorber Multi-hole position Mount (Optional Upgrade to 8 Pcs Shock)
Body shell: Traction Hobby new design 1.5mm PC shell

Driving:
Pinion gear:14T
Spur gear: 50T Nylon tooth
Driving: 4WD / 2WD Shifting Transmission System
Wheel: 2.2inch metal rim and 4.7×6 R2.2 tire (PROCOMP authorized)

Electronic equipment:
Steering servo: TH1623HV (23kg Degree/25T)
Front & Rear diff lock servo: TH1036 (3kg)
Transfer box servo: TH1036 (3kg)
Two-speed servo: TH1036 (3kg)
Transmitter: 2.4GHz Flysky NB4 customized (8 CH)

Optional:
Benz Alloy 3.0" beadlock wheels
Traction Hobby/Voodoo Tires 3.0" tires

Photos are for illustration only and may not come exactly like display photos.