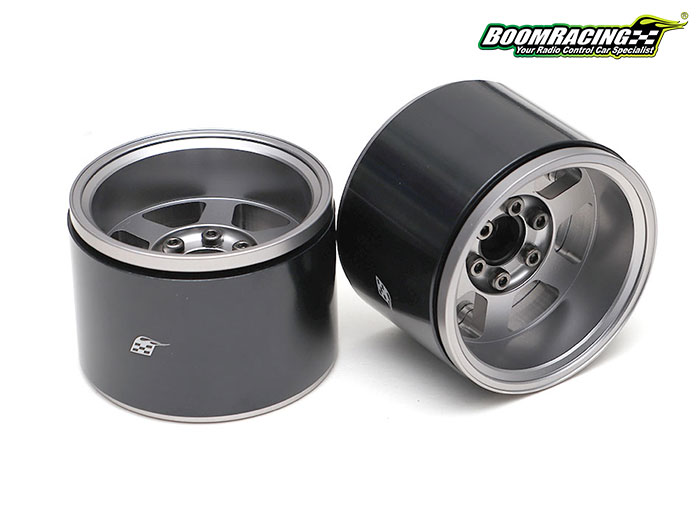 Boom Racing Releases Extra Wide 1.9 TE37XD KRAIT Beadlock Wheels
This all-new extra wide (40mm/1.57in) 1.9 KRAIT beadlock wheel features beefier look and improves sidewall conformity.
The KRAIT beadlock wheel series has seen much success in the crawling world. Boom Racing now releases an all-new extra wide version of the TE37XD KRAIT 1.9" Deep Dish Beadlock Wheel.
They are heavy duty and designed to withstand abuse. It uses a 6-bolt design to assemble the wheel.

The wider width makes the tire look "beefier" and gives a stretched look.

XT6 Hub Series is Boom Racing's removable aluminum 6-lug hubs. They are available in multiple sizes for the desired width.
Specification:
Width: 40mm / 1.57"
Offset:

Without hubs: 0mm
XT606 Hub: 6mm
With hubs: 6mm

Weight: 94 grams / wheel (with hub)

Features:
Extra Wide beefy look and wheel stance

Advantage when sidewall conformity and large contact patch is needed

Durable and lightweight design

Easy to mount (6 bolts behind)
High grade nickel plated M2.5 bolts
Improved center ring design enables longer-lasting tires

Removable XT6 hubs

Fits:
Traxxas TRX4
Axial SCX10 and SCX10 II
Most other 1.9" tire crawler trucks

Included:
2x Extra Wide TE37XD KRAIT Aluminum Wheel
2x Extra Wide Aluminum Center Wheel Ring
2x XT606 Aluminum Hub 6mm Offset
24x M2.5x8 Bolts

Optional XT6 Wheel Hubs: