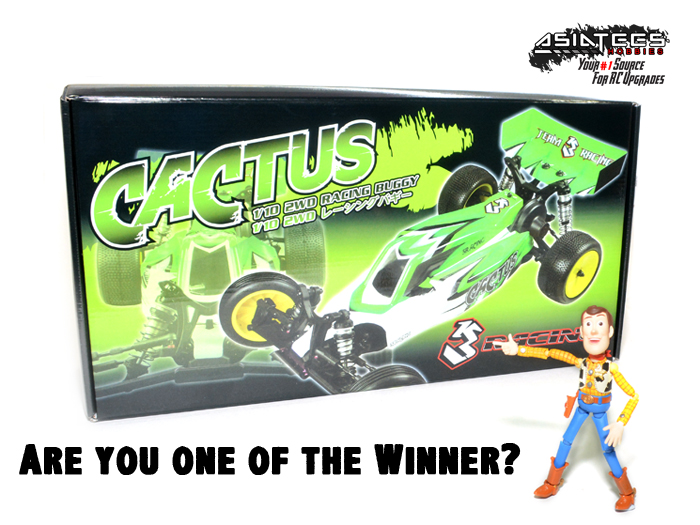 And The Winners Are...?
Today is the day which lots of people have been anticipating from us. Guess what? I think we will have more of you to come to participate with us today! We have 3 results to announce today! Who won our November monthly 3Racing Cactus giveaway? Who won our Instagram photo contest? And who won our Black Friday giveaway?
Let's meet them together! First of all, we are very excited to tell you guys who are the winners of our monthly Lucky Draw! If you are entered into the Lucky Draw, come check it out because the winner could be you!

We proudly present this 3Racing Cactus to the 2 people who holds these numbers:


4213 | 636
And our Instagram photo contest winner is:
Mr.Theycallmepnts

Yes, you just won $30 store credit from AsiaTees.
Now, another exciting moment comes. Who won our Black Friday Giveaway? Congratulations!
Justin Updyke

You won yourself a Sakura D3!
If this is the number that we have sent you or it is your name that showed above, please message us either through Facebook or sales@asiatees.com.
Thank you for the rest of you who participated in all of our contests. Do not worry; we are giving out 3 LC Racing cars to 3 lucky winners this month and of course, we have something else to give out too, but that's a secret for now~
P.S. If you are on the winners, we would want you to take a picture of the 3Racing and Sakura D3, with your family, friends or loved ones. Well, our Instagram winner, a picture of you will do~
P.P.S. It would be even better if you can hold a sign saying "Thanks AsiaTees! You are the BEST!"