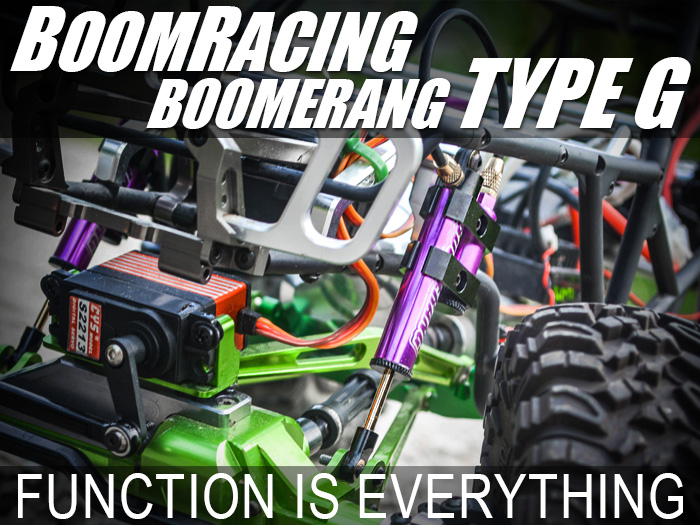 [VIDEO] Boom Racing Type G - Function is Everything
Boom Racing has been making waves in the R/C industry with the high quality and great value of their hop-up parts. How do their latest Type G Piggyback shocks measure up?
Boom Racing's Boomerang Type I 120mm shocks were some of our favorites, so we at AsiaTees were part of the bunch that got hype when they started drip-feeding info about their sweet new Type G's. Now that these bad boys have finally arrived, we took the chance to spend some hands-on time with these beautiful scale shocks.

Our verdict? We're pleased to announce that these Boomerang Type G shocks are the absolute bomb.

Just from looking at them, you can instantly see the approach Boom Racing has taken in developing these shocks. They use an internal piggyback design that look a whole lot like full-sized units; exactly what scalehounds crave. With an eye-to-eye length of 110mm and an extremely attractive anodized aluminum appearance, they're quite the looker.

So we know they look great. But we're not after shelf queen bling - we wanted rough and rugged function. We loaded them up with 35 wt oil and put them through their paces. Amazingly, they worked as great as they looked. The shocks proved to be extremely durable and held up under some grueling pressure from tough obstacles, with smooth rebound action and good flex action throughout. Function really is everything to scale crawlers, and in this category the Type G is nothing but net.

It turns out that Boom Racing's done some serious design work. Hidden behind the shiny exterior of the Boomerang, the oil reservoirs each hold a mini spring that supports a plate. The plates push the oil from the reservoir back to the main shaft unit for smooth travel and transfer of force. With a setup like that we were worried about oil leakage and an extremely greasy R/C chassis, but we experienced none to speak of, with baby-smooth shaft travel throughout. Tires stayed solidly down on uneven surfaces for better crawling and more traction.

Three rates of springs are included; gold, silver, and black in order of most shaft travel, with the silver ones installed as standard. That means you can tune your shocks with nothing more than a simple spring change. This flexibility puts Boom Racing's shocks head and shoulders above the competition. Flexibility is the name of the game; if you're not a fan of the piggyback look, the reservoirs can be placed elsewhere by simply removing the brackets, or even removed for a sleeker look.

However, nothing's perfect. Weirdly, despite Boom Racing's dedication to flexibility and customization in springs, reservoirs and color, these shocks have a non-adjustable length. You can't adjust how far the tab sits, so despite loving the product overall, we can't help but hope these shocks were offered in other, more popular lengths such as 100mm, or offered an option for adjustable ride height.

That doesn't change a lot about our verdict, though. Value for money wise these are simply some of the best shocks around, with a surprisingly reasonable price of just under $30 USD for a pack of 2 shocks. Considering the quality and design, we at AsiaTees can give this product a definite recommendation for anyone looking for a shock upgrade that not only looks great but can be counted on to perform under pressure. Check out the Shop Now link to find the shocks!