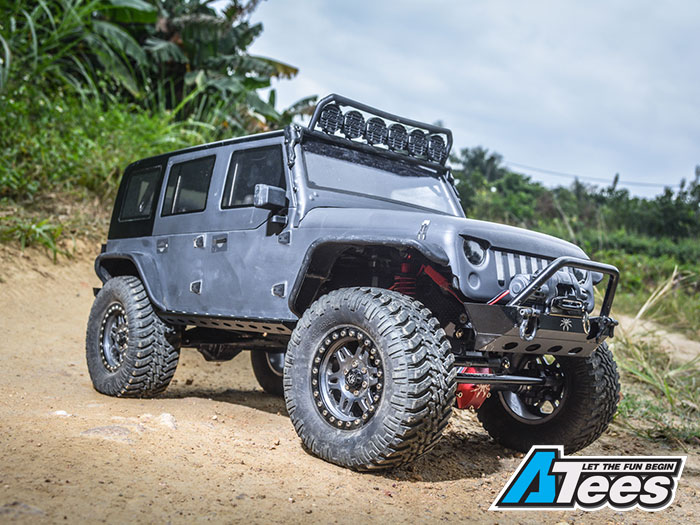 [VIDEO] New Traction Hobby 1/8 Founder Jeep Prototype
We are privileged in being able to test out this great looking 1/8 Traction Jeep. When we first got it we thought it looked really nice a little bit bigger than an SCX10 as it is a 1/8 scale. When we first took it out we were very impressed and surprised on how well it performed out on a trail. It was able to handle everything we through at it with no efforts.
 It has a very nicely constructed chassis with 6mm thick carbon fiber chassis rails. To complement the carbon fiber the rest of the chassis is almost constructed entirely out of aluminum and steel, built to a very high quality standard. The aluminum shocks are really smooth and reliable with no leaks or any problems. The very smooth and strong drivetrain is constructed out of metal including all driveshaft's and diff gears except for the spur gear. The body is mounted on using magnets and Velcro tape which is very convenient for when you need to take the body of to change the battery or do any maintenance. At first we thought it might come off very easy if the car rolled over, but in the matter of fact it stayed on their very secure and would not budge. Even if you pick up the whole car by just the body it will not come off. The very nice looking aluminum beadlooks and tires are fully licensed. The tire compound is really good too they do hook in and provide you plenty of grip on all sorts of surfaces.
Vehicle measurements are:
Scale: 1/8
Length: 645mm
Width: 375mm
Height: 300mm
Wheelbase: 374mm