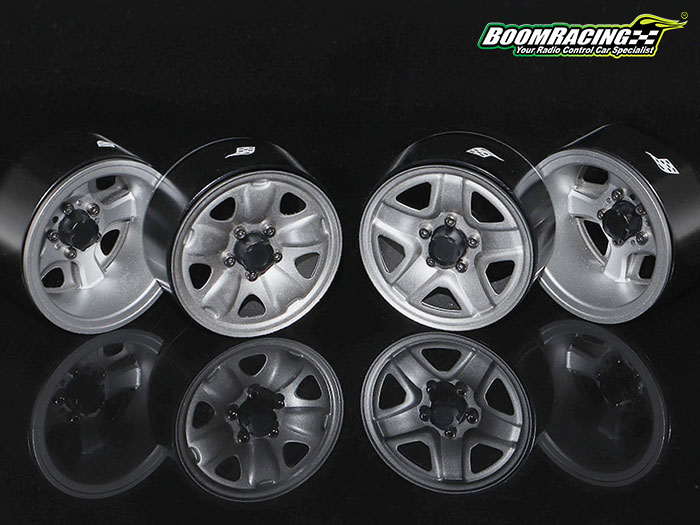 Boom Racing 1.9 S100 & S200 Steelie Reversible Beadlock Wheels
Boom Racing presents two stunning sets of 1/10 scale wheels - the S100 and S200 reversible steelie wheels. Shrunk down versions of 1:1 offroad vehicle wheels, they are engineered to the exact specifications for performance in R/C rock crawling.
Boom Racing's proprietary beadlock design protects tire beads, which result in longer-lasting tires. The S100 and S200 are easy to install on 1.9" tires from any major tire brands. Both wheels have detailed faceplate designs with scale hub caps provided.
The S100 and S200 are reversible for deep dish and dually setup. The deep offset provides a wider stance for the vehicle, increasing the wheel track. For dually set up, use with Dually adjustable adapter (part no. BRXT5DU). The interchangeable XT504 (4mm offset) aluminum hex hubs are provided.
Specification:
Wheel size: 1.9"
Width: 24mm

Fits: Most major crawler tires

They can be setup three ways:

Included:
2x Front Faceplate
2x Center Hub Cap (S100) #BRW780923
2x Wheel Center Piece
2x Wheel Back Piece
2x XT504 Wheel Hub Adapter
10x M2x10 Socket Cap Screw
2x M4 Nut - Nyloc
1x 7mm Socket Adapter