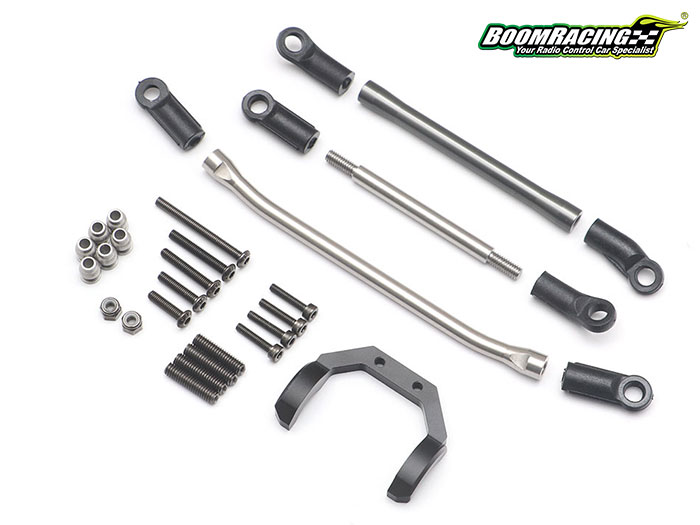 Boom Racing 4-Link Conversion Kit for Axial SCX10.2
This is a 4-link Conversion Kit for the Axial SCX10.2. This conversion kit works with Boom Racing PYTHON Servo.
You can go two different routes with this conversion kit.
First is to use the Boom Racing PYTHON BLACK servo on axle servo #BRT10043. The servo can be mounted directly onto the axle mount included in the Conversion Kit.
Second is to order this Aluminum Servo Mount #BRLC7007.
An additional upper link is provided for the 4-link setup.
Works with:
PYTHON™ BLACK BR-45WP HV Waterproof 45kg/0.11s @8.4v Axle Mounted Servo w/ Low Profile Horn #BRT10043
Boom Racing Aluminum Servo Mount on Axle for BRX01/ BRX70 / BRX90 / SCX10 II AR44 / Enduro #BRLC7007

Includes:
1x Tie Rod M4
1x Stainless Steel Drag Link
1x Stainless Steel Upper Link
4x M4x16 Set Screw
6x Ball End Pivot
2x M4 BADASS Rod End (Upwards)
3x M4 BADASS Rod End (Straight)
1x M4 BADASS Rod End (Sideways)
1x M4x12 Round Head Screw
1x M3x14 Round Head Screw
1x M3x18 Round Head Screw
1x M3x20 Round Head Screw
1x M3x30 Round Head Screw
2x M3 Nut - Nyloc
1x Alum. Servo Mount Adapter
4x M2.5x12 Socket Cap Screw