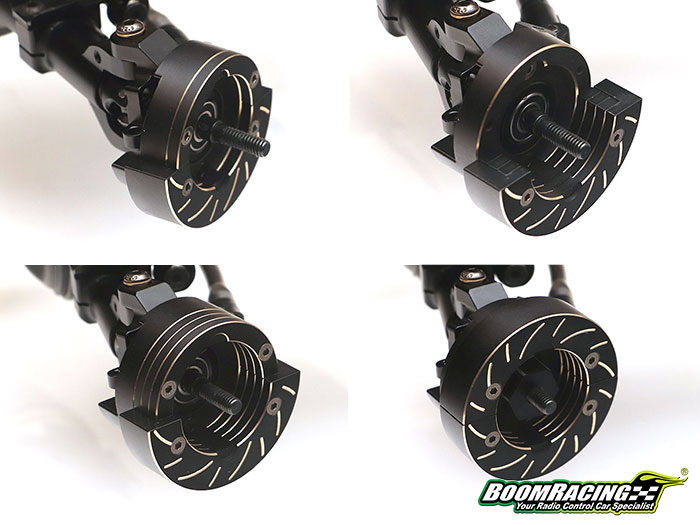 Boom Racing Brass Knuckle Weight System For BRX70/BRX90 PHAT Axle
Boom Racing releases modular brass weight performance upgrades for their BRX70 and BRX90 PHAT axles.
Add non-rotational weight mass onto the axle for better stability and traction control. Adding weights strategically on a crawler will increase performance drastically.
List of new parts:
These new parts are made from high-grade brass and anodized in black color with machined edges. This is a complete modular weighted system which means they can be installed in multiple ways for different setups to suit your needs.
The name "Knuckle Base Weight" probably already reveals what it is, besides adding weight to the axles, they double as a base for extra brass Weight Blocks to be added.
There are two sets of Weight Blocks that can be added to the Knuckle Base Weights; a Large Brass Weight Block which comes in two halves, and a Small Brass Weight Block which comes in a packet of six.
These extra Weight Blocks can be installed separately as well as combined together as a whole for an extra weighted setup. For example, they can be added just on the bottom half which is close to the lowest point of the vehicle (for the lowest center of gravity).
Fits:
Note: The Large Brass Weight Block will only fit 1.9" wheels and up.