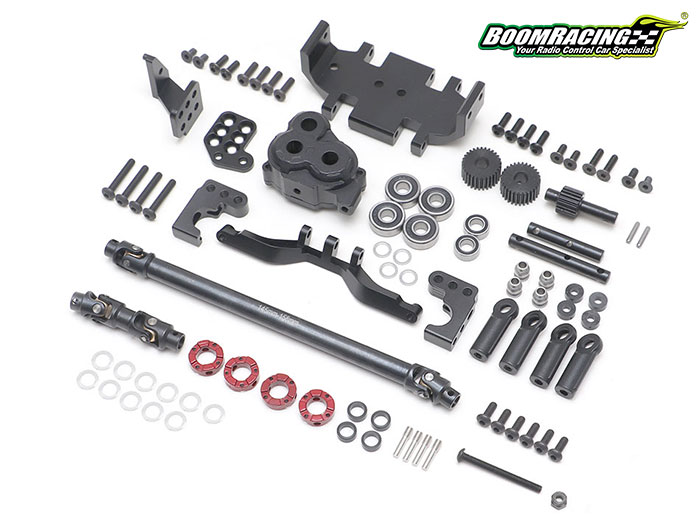 Boom Racing D110 BRX Anti Torque Twist T-Case Conversion Kit
Imagine life without torque twist. Is that a fantasy? Not anymore! Boom Racing releases a complete kit to eliminate torque twist in the D110 chassis kit.
Boom Racing's new D110 BRX Anti Torque Twist T-Case Conversion Kit (#BRQ763073) effectively eliminates torque twist in the D110 chassis kit.


Eliminate Torque Twist

Better overall handling and control

Attack side-hills with confidence

More scale realism driving motion
More predictable control especially in side-hill climbs.

No twisting during acceleration.

Lowers the motor position for lower CG.

New motor mount creates higher ground clearance at the front end.

Eliminate center straight shaft and bearing holder.

Less moving parts in the drivetrain, less friction.

High clearance skid plate raises creates more ground clearance.
Read about the D90 BRX Anti Torque Twist Conversion Kit
This D110 conversion has a few advantages over stock setup. It helps increase performance and better driving realism by eliminating torque twist. The truck is much more predictable especially in side-hill climbs with no torque twist so you can tackle more difficult side-hill slopes.
The BRX Anti Torque Twist system reduces twisting of the vehicle when it accelerates. This is due to the two center drive shafts rotating in opposite directions, with the torque counteracting each other. In most standard RC crawler drivetrain systems today both drive shafts rotate in the same direction, making the vehicle sway to one direction.
The included adjustable gearbox mount raises the gearbox a little bit higher for more clearance of the upper link and the driveshaft. At the same time it allows you to lower the motor position so that the center of gravity is still in about the same position as the stock position.
The included rear HD Voodoo Drive Shaft eliminates the extension shaft and bearing holder. The chassis benefits with less moving parts with less friction and play in the drivetrain.
Another feature is the high clearance skid plate. It raises up the skid plate and creates more ground clearance so you don't get hung up on rocks as easily.

The Selective Rotational Drive™ (SRD) system enables the drivetrain to run counter rotation system or standard direct drive rotation.

Specification:
Input Gear: 20T
Output Gear: 29T (Normal & Reversed)
Gear Ratio: 1 : 1.45

Includes:
1x High Clearance Alum. Motor Mount  #BR302010BK
1x Voodoo Steel HD Drive Shaft 145-158mm #BRQ90279H
1x Voodoo Steel HD Drive Shaft 49mm
1x High Clearance Skid Plate #BR302011
1x BRX Anti Torque Twist Transfer Case #BRQ763069 | PDF Manual
1x Counter Rotation Alum. Link Mounts with Rear Alum. Truss #BRQ763068
6x M3x3mm Spacers
4x  M3 Long Straight Nylon Rod Ends