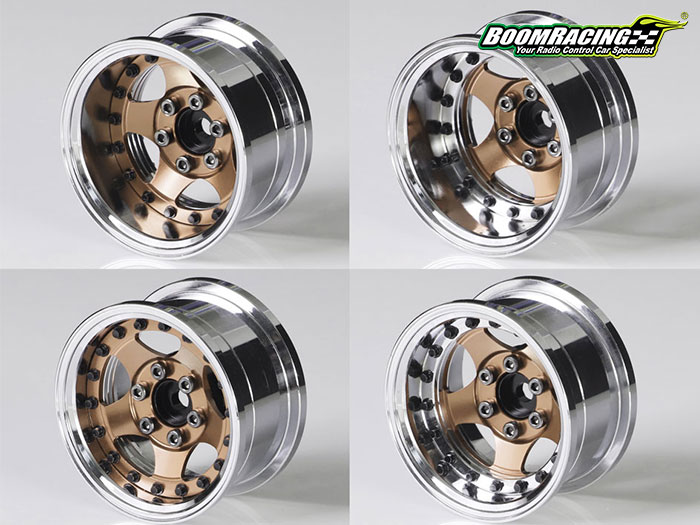 Boom Racing ProBuild Customizable Beadlock Wheels
Build your wheels exactly the way you want with Boom Racing's all-new ProBuild Wheels.
The idea behind PROBUILD was to find a way to make a fully customizable and adjustable wheel with multiple setup options. Today, that sounds really smart, but back when we started most people thought we were crazy. That's alright, everything has its time!

Quality off-road wheels are not always affordable. Most of us save our money to get a nice set. Deciding on the right set of wheels can end up being a scary and expensive learning lesson. Our proprietary customizable design completely removes any fear of getting another set of wheels that are "almost right". We took into consideration all of the desirable wheel features - style, color, offset, material, total width, weight, hub size, hardware styling, etc., and provide the options to adjust the wheel to the way you like.

What makes PROBUILD probuild?
High changeability, unlimited possibilities
Built-in offset options
Revolutionary and cutting edge designs
Engineered to the exact specifications of world-class drivers

With unlimited combinations of colors, faceplates, multiple offset options, etc, ProBuild wheels is a game-changing design for how we build and match custom rigs. No longer are we stuck with a full set of wheels that remain the same for too long.

Specification:
Diameter: 1.9"
Width: 29.4mm (1.157")
Inner Wheel Clearance: 45mm
Approx 70 grams per wheel (fully assembled)
Offset: Adjustable (Hub Size | Actual Offset)

XT6015PIN | 3mm / -3mm / -4.6mm / -10.6mm
XT601 | 0mm / -6mm / -7.6mm / -13.6mm
XT604 | -3mm / -9mm / -10.6mm / -16.6mm
XT606 | -5mm / -11mm / -12.6mm / -18.6mm
XT608 | -7mm / -13mm / -14.6mm / -20.6mm

What's Included? All Ready-Sets come with the following:
2x Alum Barrel Front
2x Alum Barrel Back
2x Alum Center Ring
2x Alum Faceplate
2x Steel Lock Ring
2x Alum Wheel Hub Adapter
40x M2x9 Scale Screw
40x M2x8 12.9 Grade Socket Cap Screw for wheel
12x M2.5x8 12.9 Grade Socket Cap Screw for hub
6x M2x14 12.9 Grade Socket Cap Pilot Screw
2x M4 Nyloc Nut
1x 7mm Socket Adapter Tool
1x Thumb Tool for 2mm Scale Hardware
1x Decal Sheet

Optional Wheel Hub Adapter Sizes:
XT6015PIN - 1.5mm Pin Alum Offset

#BRXT6015PIN

XT601 - 1mm

Alum

Offset

#BRXT601

XT604 - 4mm

Alum

Offset

#BRXT604

XT606 - 6mm

Alum

Offset

#BRXT606

XT608 - 8mm

Alum

Offset

#BRXT608
Build your beadlock wheels exactly the way you want like a Pro!