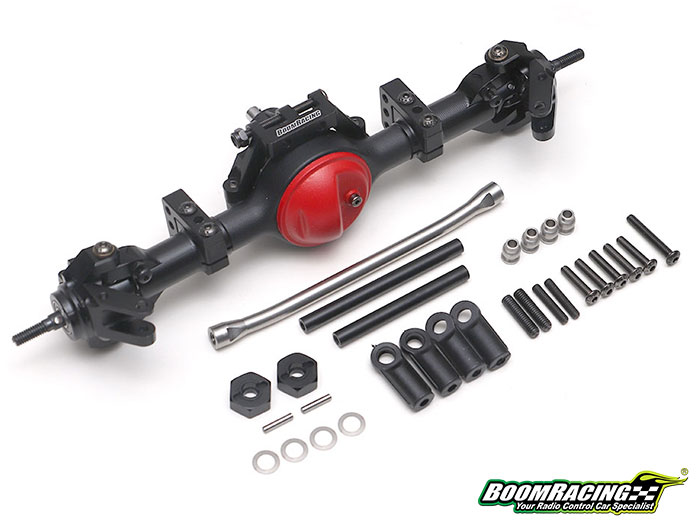 Boom Racing Releases BRX90 Assembled PHAT Axle w/ AR44 Keyed Gear
Boom Racing releases the much anticipated BRX90 PHAT Axles. The BRX90 is a wider version of the BRX70 axle for Class 1 and Class 2 builds.
The PHAT axle is the go-to scale truck axle combining high performance features with precision made scale realism. Based on the BRX70 PHAT Axle, the all-new BRX90 PHAT Axle is packed with lots of exciting solid axle features. It is an ultra scale, heavy-duty axle set designed for top performance in custom R/C builds.
What stands out immediately when you pick up a set of BRX90 axle is the weight. The axles weigh 280g for the front axle and 220g for the rear. The heavy weight helps to keep the vehicle planted to the ground at all times.
Here are the BRX90 features we like the most:
Behind-the-axle (BTA) steering or front steering setup. Over 50 degree steering angle for steering in front and 45 degree for BTA setup.
Option to use chassis mounted servo (CMS) or axle mounted servo (AMS) setups.
Splined axle and C-hub with adjustable caster angles for steering adjustments.
Leaf spring slots are ready for over and under the axle setups.
Keyed HD AR44 Helical Bevel Gear Set. Bevel gears are keyed for extra durability and strength.
AR44 compatible CNC aluminum Knuckles and C-Hubs.
Removable third member with reversible axle bevel gear positions for standard or counter rotation setups.
Detachable aluminum CNC truss.
Size:
176mm / 6.93 inch pin to pin (front and rear)

Features:
Narrow axle for super scale builds
PHAT axle (heavy and strong)
280grams total weight (front) 220grams total weight (rear)
Reversible axle gear in the housing (swap gear to opposite side for counter rotation center drivetrain setup)
Standard AR44 high pinion gear & input shaft
High pinion axle setup for better clearance
Chassis Mounted Servo (CMS) AND Axle Mounted Servo (AMS) setup option
Detachable knuckle lever for Behind-The-Axle steering setup option
Standard AR44 knuckle arms are compatible
Leaf spring over and under the axle housing option
CNC aluminum truss included for 3-Link and 4-Link setup option
Adjustable caster angle for additional steering adjustability
BADASS HD Steel universal shaft for ultimate durability and strength for the axle drivetrain
High steering angle you won't believe its true - over 45 degrees
Removeable third member for 6x6 pass-thru option (coming soon)
Third member high pinion angle for better clearance
Counter rotation stainless steel tie rod steering link for quick adjustments
Option to lengthen the axle width with longer c-hubs and universal axle shafts (coming soon)