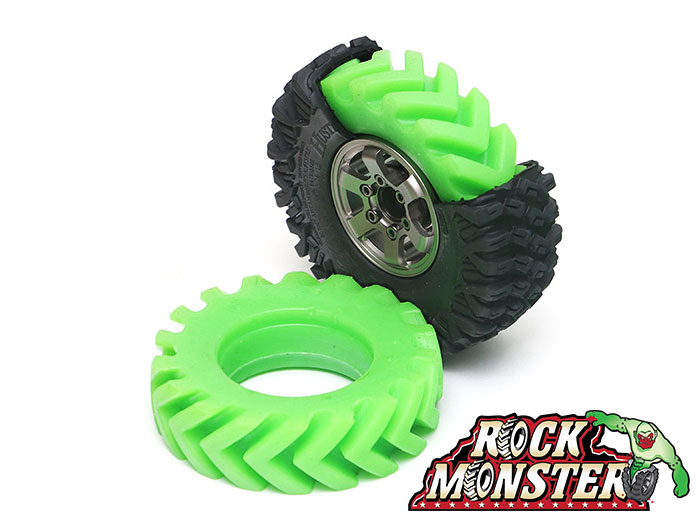 Boom Racing Rock Monster Silicone Tire Insert for Crawlers
Introducing the all-new Boom Racing Rock Monster silicone tire inserts for RC scalers around the world!
The original Rock Monster was designed and developed in Arizona, USA by entrepreneur Michael Giles. In the early days, silicone inserts were made to order and customized to each tire's specification. The idea behind a silicone insert is that foam inserts couldn't hold the weight of increasingly heavier crawler rigs with smaller tires. At the same time, folks started to experiment with hard bodies/small tires to build better-looking scale rigs. Figuring out how to hold the weight of a heavy rig without deforming the tires was a mystery back then.
The new product quickly generated interests among the local scale crawling scene. Rock Monster silicone inserts became the first legitimate solution to the problem for those who were looking for more performance out of their crawlers. The silicone inserts not only hold the weight of the heavier rigs better, but they are also much more durable, which translates to longer-lasting tire inserts. Another big advantage is that they are waterproof. Silicone naturally conforms to the surface, but does not collapse.
Mike soon found himself receiving orders for the silicone inserts around the state and beyond, including California, Michigan, Illinois, Australia, Canada and Italy. The demand came from hardcore crawling enthusiasts around the world, and the orders came in faster than he could provide them. To produce silicone inserts, different molds had to be made to form the silicone into different shapes and sizes. Each mold will only be made to fit one tire. Multiple molds were needed for all of the different tires in the market. To make matters more difficult, every molding process had to be repeated four times. Unfortunately, this was when Mike decided to stop producing them. For the next couple of years, the Rock Monster silicone inserts became folklore and a prized item that many hoped they could have gotten, and with lots of dry rocks and gnarly terrains in Arizona, it became the best proving ground for the next generation of Rock Monster inserts.
When Mike met me in Arizona through our good friend Shawn Roche, Mike taught me his know-how on silicone inserts. He passed his "secret recipe" to me believing I alone could and would be the right person to truly bring the silicone insert to the worldwide market. It took the Boom Racing team over two years to improve and produce the all-new Rock Monster inserts. Today, after overcoming many of the production hurdles, we are honored to finally bring this game-changing product to life.
Benefits:
Holds the weight of heavy rigs, especially with small tires
Does not deform under load
Conforms to the surface, but does not collapse
Strong sidewall strength but soft on the outer edge
100% Waterproof
Durable and long-lasting
Will always retain its original shape
No need for car stands
Additional significant weight for lower CG
Air out your tires without worrying about water ruining inserts
Fast and easy installation
Application:
Most effective for heavy crawler rigs running small tires
Hardbody trucks
Small tire crawlers