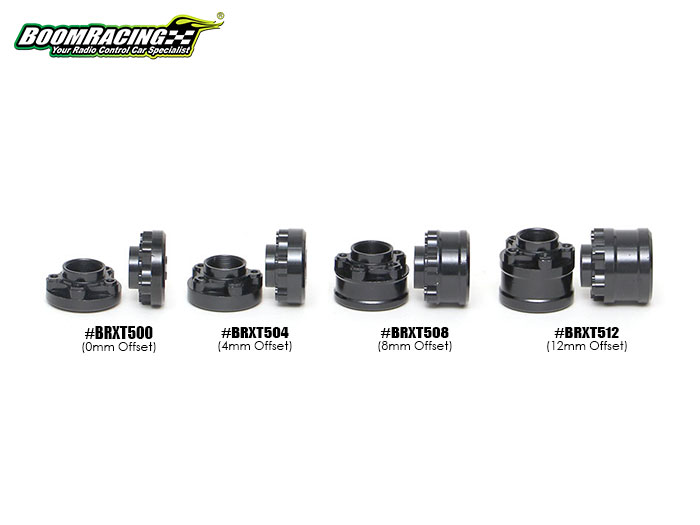 Boom Racing XT5 Aluminum Wheel Hub Adapter Series
XT5 Hub is a series of wheel hub adapters designed for Boom Racing 5-Lug beadlock wheels. They are made out of billet CNC aluminum.
The XT500 Hub does not require wheel hex, it uses a pin to secure the wheel directly to the drive shaft. The XT504 / XT508 / XT512 use standard 12mm hex.
Fits:
1.55" 16-Hole Steelie Beadlock (Front/Rear) BRW780955 (F/R)
1.9" 16-Hole Steelie Beadlock (Front/Rear) BRW780919 (F/R)
1.9" Narrow 16-Hole Steelie Beadlock (Front/Rear) BRW780920 (F/R)
Includes:
2x XT500 Aluminum Hubs (0mm Offset)
10x M2x10mm
2x Nyloc (XT500/XT504)
2x Barrel Nut (XT508/XT512)
2x Spacer (XT500)
2x Wheel Pin (XT500)
2x Set Screw (XT508/XT512)
All 5-Lug Hub Size Options:
XT500 0mm Pin Wheel Hub BRXT500
XT504 4mm Wheel Hub BRXT504
XT508 8mm Wheel Hub BRXT508
XT512 12mm Wheel Hub BRXT512
Adjustable Dually Adapter for 5-Lug Beadlocks BRXT5DU