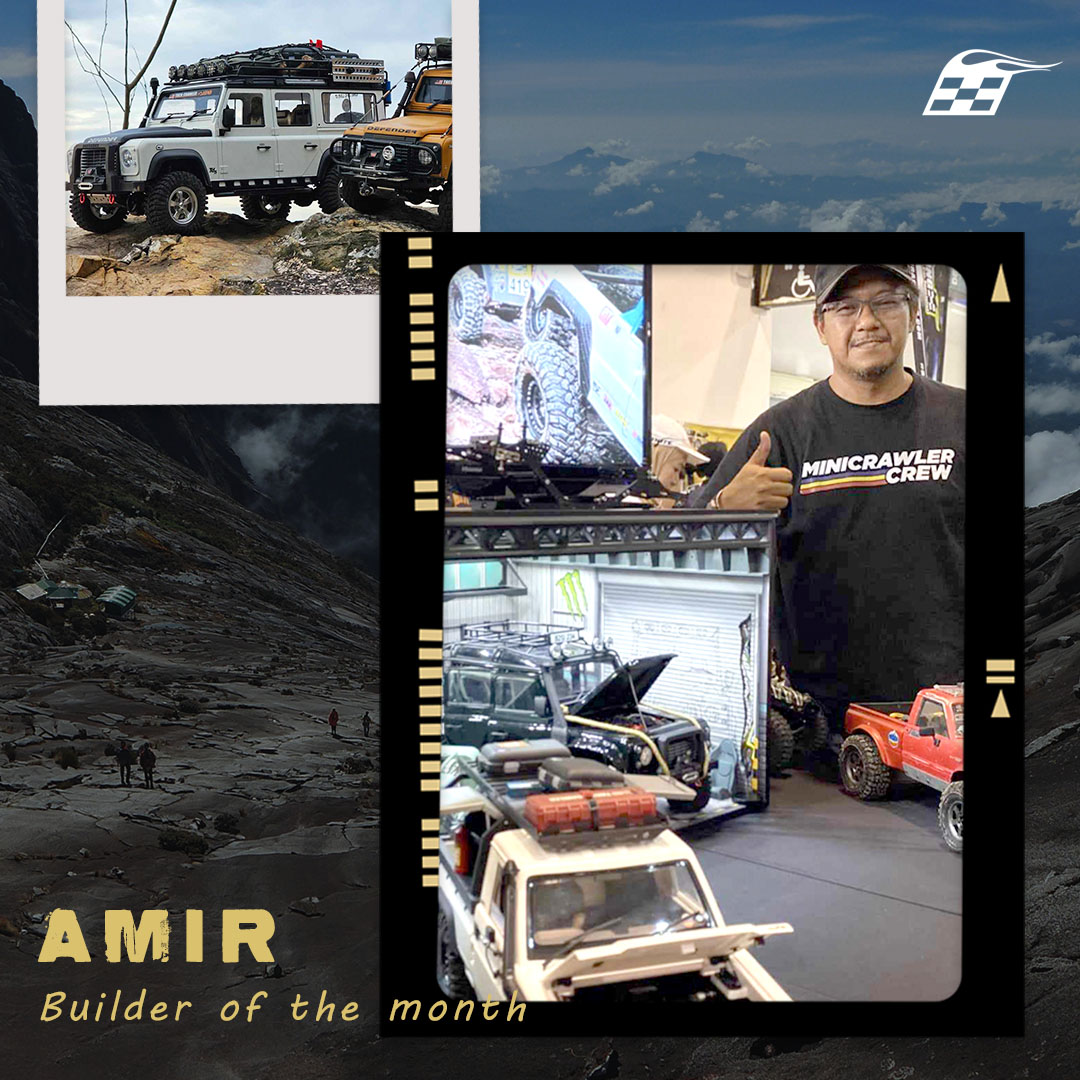 Builder of the Month: Amir Rofie (Aug 2023)
Boom:
Hey Amir! Welcome to Builder of the Month! Please introduce yourself and share how you became interested in this hobby.
Amir:
My name is Amir Rofie from Malaysia. I love cars. Before I went into RC, I was a diecast collector. In 2020, during the COVID pandemic, I tried to find something new, which is to cars too. So, I choose RC. 
Boom:
What Boom Racing products do you have experience with? Share some insights about what you like about them?
Amir: 
I started with several Boom Racing products, such as Probuild and Krait wheels. Then, when Boom Racing introduced the BRX02, I wanted to experience this model. First with the leaf version, then second with the link version. After that, the BRX01. Love the quality and the precision of this BRX product family. The packaging is superb. And, of course, the support from the Boom Racing team. Their engagement with customers like me is excellent. I am not good in RC, so many questions are coming from me, and the response is superbly quick. 
Boom:
Are there any future Boom Racing builds you are planning? 
Amir:
The next project would be a short wheelbase from the BRX family. 
Boom:
Where do you draw your inspiration from when you are building? 
Amir:
I love cars. I want to build a scale car that I see on the road / off-road. I am not good at bodywork. So, I asked my friend Dak Didie (who always supports me) to build such a scale RC car. One more thing that I love most besides RC is photo and videography. I combined both hobbies into videos to share my experience with others. I learned how to shoot a video, especially with a low angle, the movement of a car with a good suspension setting, so that the video can show a realistic car movement on the road or off-road. The videos will be my memories in the future. 
Boom:
What makes a build badass? 
Amir:
Quality & Precision. That's what makes Boom Racing products BadAss. 
Boom:
What is the RC community like in the area you live? 
Amir:
The RC community in my area is huge, such as drift, plane, racing, etc. I am into crawlers, especially scale RC crawlers. I also joined RC crawlers such as rock climb, but not so much. Just concentrate my hobby on scale RC crawler. Many events and competitions are organized by our local RC community in a year. 
Boom:
What are some must-haves when packing for an RC event? 
Amir:
Tools and some spare parts. You never know what will happen during the competition. 
Boom:
Do you have any tips or advice for others in the hobby? 
Amir:
Focus your interest on what you want. Like myself, I like scale rigs. So, my budget for hobby goes to building a scale rig, and it is best to go for trailing mode.