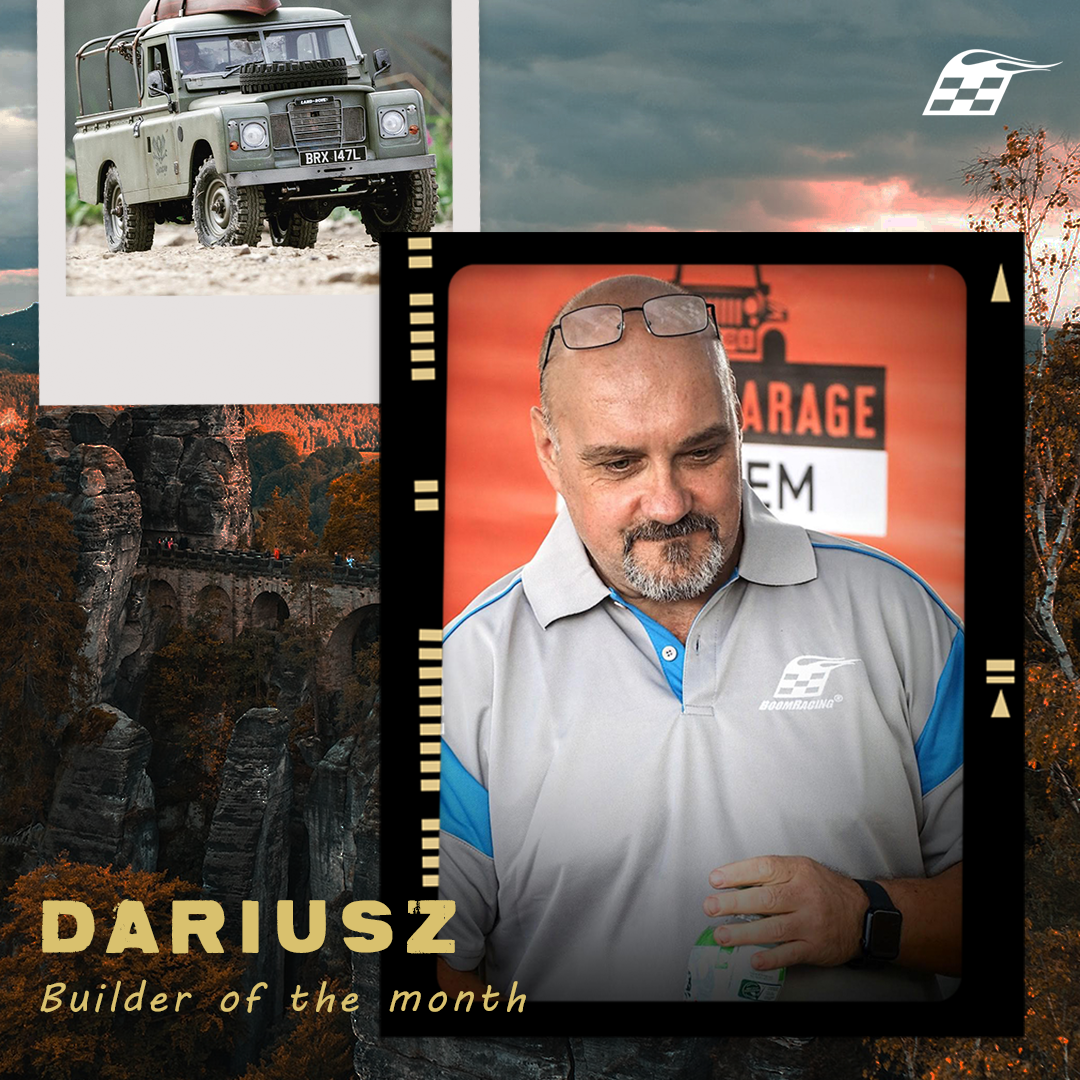 Builder of the Month: Dariusz (Oct 2023)
Boom:
Welcome to Builder of the Month! Can you tell us about yourself and how you got into the hobby?
Darius:
My name is Dariusz Cybula. I am a Pole living in Germany. My adventure with RC started with my son. He showed me and made me curious about the crawlers. When I first saw a 1:1 scale model resembling a real car, I was shocked that it could look and function so realistically. I thought that I wanted this too, and I knew that this was what I would strive for when building my models.
Boom:
How did you discover Boom Racing? 
Darius:
There are many of my friends who owned a BRX01 with a Toyota LC70 body, and I always looked at them with envy.
Boom:
Can you tell us about your Boom Racing vehicles?
Darius:
My first one was the BRX02. Originally, I was going to build a D110, but unfortunately, all the bodies were sold out. Then I decided to rebuild the Toyota fj40 body into an Fj45 pickup (I love pickup trucks) and mounted it on the BRX02. It fits perfectly.
Boom:
Are there any future Boom Racing builds you are planning?
Darius:
Yes, the Toyota LC70 X Overland edition on the BRX01 chassis has just been created. The next one will be the Zil 130 X Overland edition, which I want to mount on the BRX02 88 SWB chassis. It seems perfect to me for this project. These are my plans for the future.
Boom:
Where do you draw your inspiration from when you are building?
Darius:
From the street, from the Internet, from memories, but also from your own fantasy.
Boom:
What is the RC community like in the area where you live?
Darius:
First of all, amazing people full of passion and a full diversity of crawlers, performance, scale, racing cars, boats... I'm truly amazed at what amazing ideas they can implement.
Boom:
What cars or upgrades do you hope to see Boom Racing make next? 
Darius:
I love pickup trucks, especially those from years ago, cars with character, and I would like more cars like this. But expedition cars would also be an interesting proposition.
Boom:
Do you have any tips or advice for others in the hobby?
Darius:
Don't limit yourself. You have an idea, implement it. Have fun, and everything will be simple and doable. You can always count on help from other hobbyists.