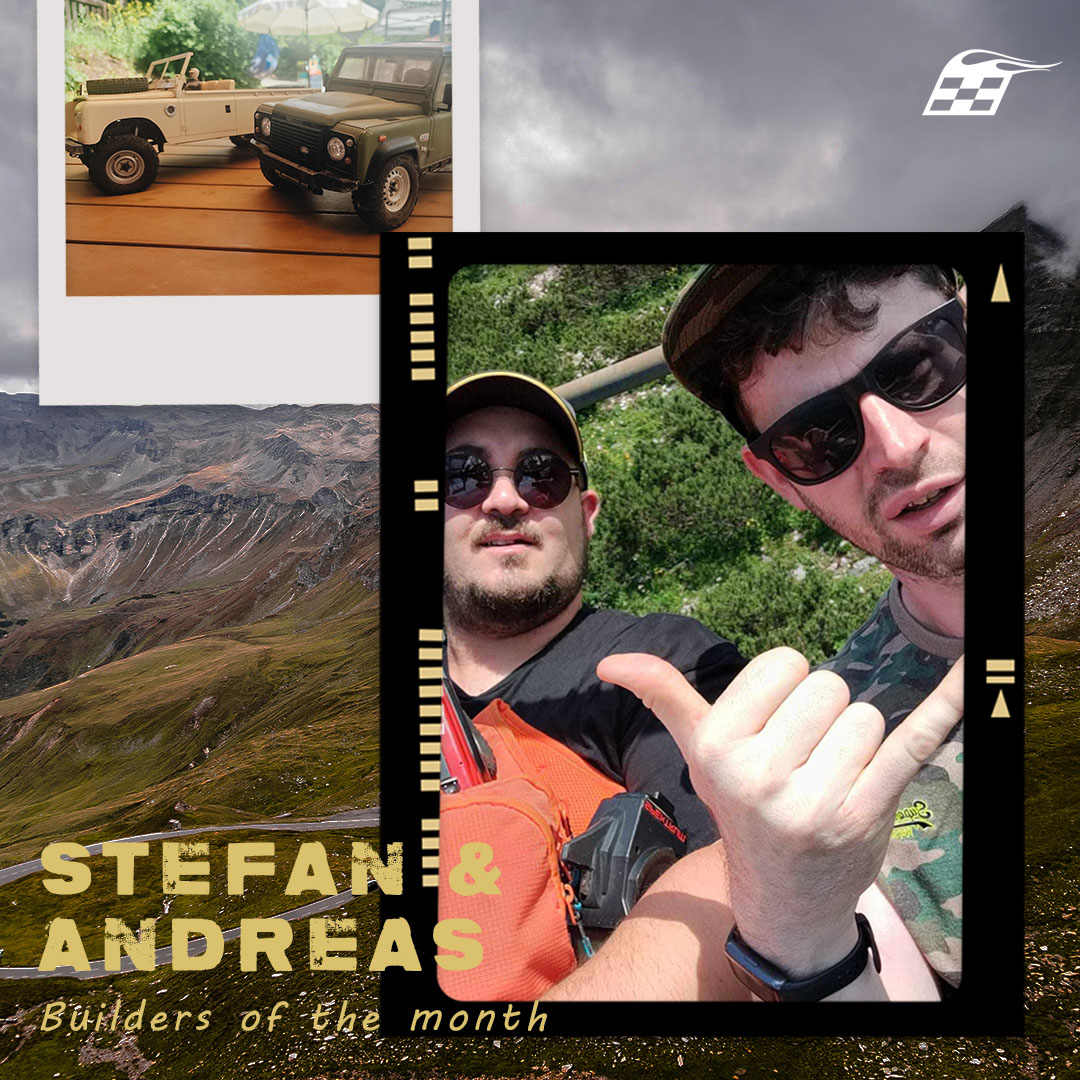 Builder of the Month: Stefan and Andreas (July 2023)
Boom: 
Welcome to Builder of the Month! Can you tell us about yourself and how you got into the hobby?
Stefan:
Hello Boom Racing friends, my name is Stefan. I'm 30 years old and I'm from Austria. I'm the founder of the group AMS SCALE PERFORMANCE AUSTRIA. My passion for model building started at a young age, as my grandfather and father are passionate model builders. I, on the other hand, always wanted to drive a car and that's how it all started.
Andreas:
Hello everyone, my name is Andreas, I am 36 years old, I come from Austria, and I am a member of AMS Scale Performance Austria. I've been making models since I was a child because I was enthusiastic about everything to do with cars from an early age, and model making gave me the opportunity to live out this passion.
Boom:
What Boom Racing products do you have experience with? Share some insights about what you like about them.
Stefan:
I have a few Boom Racing BRX models and can only say good things about them. I also have ProBuild rims and these are also very fine to work with and very cleanly designed. I currently own 4 models. 2x Boom Racing BRX01, 1x Boom Racing BRX02, and 1x Boom Racing BRX02 D109. I certified the new BRX02 D109 at the 12h The Fix Enduro in 2023 and it survived this without any problems. I ride the BRX models in all situations, whether Sorrca, scale hikes, or competitions in Europe. With you everywhere and they perform perfectly in every situation.
Andreas:
In the meantime, I've gained quite a bit of experience with Boom Racing products. Among them 5x BRX01 and 2x Brx02 are the cars that I built. I installed countless parts from Boom Racing on a variety of different cars. I also certified both the BRX01 and the BRX02 at the official The Fix Enduro 12h Europe race and both vehicles survived this ordeal with minimal wear and tear which absolutely stands for the quality and performance of Boom Racing vehicles.
Boom: Are there any future Boom Racing builds you are planning?
Stefan:
I'm already looking forward to the new Land Rover Series 3 88. Maybe there will also be a BRX01 LE in the house that would be my dream. Otherwise, I am absolutely satisfied with the models that are currently in my possession.
Andreas:
As a future project, I'm really looking forward to the new BRX02 Series 3 88. I can't wait to get one of these in my hands and start to build.
Boom: Where do you draw your inspiration from when you are building?
Stefan:
I get my inspiration from the internet, where I look for the car in question and see which designs are available and which ones are contemporary. You will also find all the paint codes for the vehicles there, so you can paint them with the original paint.
Andreas:
As inspiration for my projects, I look for real cars on Google or Pinterest, which I then try to build as a model as best as possible. So, I then try to create the perfect illusion on photos to make the model look like a real car.
Boom: What makes a build badass? 
Stefan:
The question is not difficult to answer; in my opinion, the quality is so high that for me it is absolutely the best product on the market. I'm glad to have such good friends who often design parts so we can tailor the models even more precisely and better to our wishes. Thanks to Jason and his open ears, you can also write him wishes and suggestions, which he accepts and thus makes the models even better for all of us.
Andreas:
Using a Boom Racing model for a project is a good first step for a badass build. Also designing and manufacture parts and in the end to have everything that fits perfectly and works the way you want it to. So, you can then present your finished project to the community and the model gets a lot of likes so I know I build a model that is Badass.
Boom: What is the RC community like in the area you live?
Stefan:
There are a few spots in our area that people like to use. There are competitions throughout the year and scale hikes are also organized. We, the AMS SCALE PERFORMANCE team, started our first event this year and brought the scene together on a great site with lots of people and happy faces.
Andreas:
In our area there are some clubs and groups that organize various competitions and trips. This year our AMS Scale Performance team held its first event, which was a complete success thanks to the support of Boom Racing and many other sponsors.
Boom: What are some must-haves when you are packing for an RC event?
Stefan:
An absolute must-have at an event is friends. But you shouldn't forget the transmitter and the batteries unfortunately already happened and were 300 km away. You also have to have camping accessories with you; you never know what will happen.
Andreas:
A must have for every RC event is my first BRX01 with number #176, tools, batteries, my charger, and some camping supplies. And don't forget the transmitter .
Boom: Do you have any tips or advice for others in the hobby?
Stefan:
Buy Boom Racing stuff and you will be happy in every situation with your models and parts you get there. 
Andreas:
Buy some quality stuff from Boom Racing and build everything the way you like it without letting others influence you. Stay strong and build your dreams.