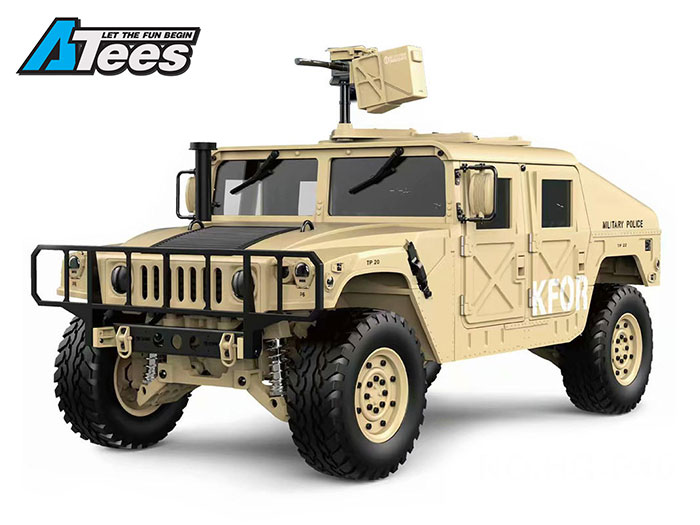 TRASPED P408 1/10 4WD US Military Crawler Truck ARTR
This TRASPED P408 is packed with features. It comes standard with a two-speed transmission, full time 4WD, front and rear diff locks and fully independent suspension.
All of the doors open individually and have independent locks to secure them in place. The front hood and rear door can be opened. Comes with scale details including a full engine bay and a top mounted machine gun.
The truck comes in a box that can be used to carry the truck around with the radio inside.
Specification:
Portal Axle
2 Speed Transmission
Full time 4WD
Gear ratio: 1:1.4
Size: 472x227x267mm (LxWxH)
Wheelbase: 329mm
Width: 225mm
Tire: 100x38mm (HxW)
Motor: 550 sized Brushed
ESC: 160A
Steering Servo: 9kg Metal Gear
Gear Shift Servo: 9g included
2.4Ghz Radio TX & RX
Radio range: >100m
Max speed: 30km/h
Detailed ABS molded hard body
Doors can open and close, including hood, rear door
Removable roof rack

Includes:
1/10 4WD US Military Crawler Truck ARTR
Motor (550) & ESC
Radio: TX & RX
Steering Servo
2-Speed Servo
Accessories: Machine Gun Set
1.5mm 2.0mm 2.5mm hex wrench tool set
Decal
Hardware set

You will need:
Lipo Battery 7.4V
Transmitter Battery (4xAA)
Charger
LED Lights (not included)
Available colors:
Desert Yellow
Military Green
Shop Now:
TRASPED P408 1/10 4WD US Military Crawler Truck ARTR 30km/h Desert Yellow