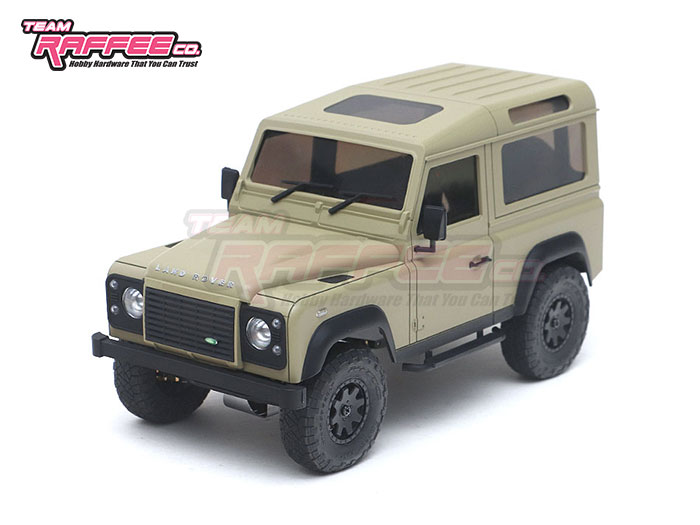 Team Raffee Co. Defender D90 Hard Body for Kyosho Mini-Z 4x4
The Defender D90 body shown here is mounted on a Mini-Z 4x4 Hilux 4Runner chassis. It is quite easy to mount with no major modifications needed. All you need to do is to install the front and rear bumpers.
Specification:
Length: 200mm
Width: 95mm
Height: 78mm
Wheelbase: 120mm
Weight: 75g
Includes:
Body
Front bumper
Rear bumper
All the chrome parts
Door handles, wing mirrors, side steps
Light buckets, petro cap, spare tire cover
Decals
Light buckets
Pre-tinted windows
Instruction manual
To mount on the Jimny chassis:
1. Remove the front and rear bumpers and bumper mounts
2. Install the Defender D90 front and rear bumper mounts
3. Optional - the Defender D90 in this article uses the larger Hilux 4Runner wheels and tires KYA-MXTH001 Premounted Tire/Wheel 2pcs Toyota 4Runner or KYA-MXTH001HW Premounted Tire + Wheel w/ Weight 2pcs 4Runner.
To mount on the Hilux 4Runner chassis:
1. Lengthen the front upper Y-links with this KYA-MX007 Suspension Parts Set.
2. Lengthen the lower links, option of KYA-MX017 Tie Rod Set or KYA-MXW002R Aluminum Link Rod Set WB 120mm 
3. Mount the rear shock towers in reverse position
4. Flip the side body mounts
5. Remove the front and rear bumpers and bumper mounts
6. Install the Defender D90 front and rear bumper mounts