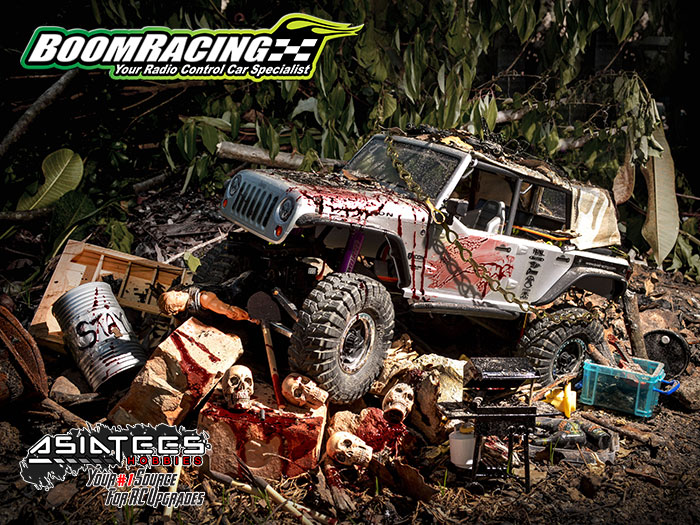 RC Cars Scale Accessories For The Walking Dead
Halloween is around the corner and of course, we would love to visit the haunted houses and trick or treats with the kids, but this year, we are actually turning our RC models into the scariest scene.

Here at Asiatees, we have a colleague who is a huge fan of the TV series "The Walking Dead", which is about a sheriff awakening from a coma to find a post-apocalyptic world dominated by flesh-eating zombies. Our colleague rebuilt the horror scene with some fake blood and a few scale accessories: sitting in his truck, the sheriff was surrounded by a broken book cabinet, a kid's skateboard, a guitar, a bicycle, a barbeque grill,some gas cans and the last thing he wants to see - human skulls. But there must be people that are still alive out there. So with an Axial SCX10 and a few tools, he's on his way to find his long lost family, but before that, he is already dead.

The following is a list of scale accessories that showed up in the horror scene:

Mini Skateboard
Shovel & Straw Fork 4 Pieces
Transparent Storage Box
Bailey's Irish Cream
Electric Guitar
Barbeque Charcoal Grill
Mini Bicycle
Tool Shelf A
Chains Type A
Gas Can

Don't forget to check out our previous Scale Accessories series - RC Car Garage.